CURRENT:
Produced in partnership with QUAD, Derby and Bloc Projects, Sheffield
Bloc Projects, Sheffield, UK
Exhibition: 14 Apr – 5 May 2018
www.blocprojects.co.uk

The Design Museum, London, UK
19 May 2018
www.designmuseum.org

Matts Gallery, London, UK
July 21 - July 29 2018
www.mattsgallery.org

QUAD, Derby, UK
14 July – 21 October 2018
www.derbyquad.co.uk

KTH, R1, Stockholm, Sweden
24 - 26 August 2018
https://www.instagram.com/t_a_i_l_s/

6th Athens Biennale, Greece
26 October - 9 December 2018
www.athensbiennale.org
The Centre for Investigative Journalism, London, UK
16 – 20 October 2018
www.tcij.org
'Adcredo' investigates the construction of belief in online networks, examining the rise of unjust ideologies and fantasies, and how these are capable of affecting our worldview. The advent of digital media has shown that the world is made up of a mass of circulating, disjointed and contradictory information. This multi-dimensional communications network can be easily manipulated by online groups and individuals, which can give rise to new narratives and ideologies. Using research from investigative journalism and social psychology the work takes the form of a speculative association, a corporation where ideologies are disseminated to manipulate people. Conspiracy theory, sci-fact and sci-fi, corporate and religious belief systems are woven together in this multi-dimensional work.
We live in a time of 'hyperpolarisation' where we think that people with different political or religious beliefs live in different worlds. Our beliefs are reaffirmed in social media echo chambers whereby abstract manipulation occurs through background algorithmic processes, pulling us further into rabbit holes and making atomized groups. The work operates by holding up multiple mirrors, reflecting different cultural sets of belief systems, to question the very foundations of what constitutes our world view. It uncovers personal journeys that lead to certain convictions and critique the platforms that pitch different belief systems against each other.
The 2016 Brexit and Trump campaigns both used the private company Cambridge Analytica to influence voters during the run up to the UK referendum and the US election. The company combines data mining and data analysis with strategic communication and is known for involvement "in military disinformation campaigns to social media branding and voter targeting". Cambridge Analytica specifically uses Facebook user activity to create psychological profiles and model personalities.
As we have seen within recent political upheaval in the last two years, popular opinion and attitudes may not be grounded in certain 'truths' but based upon the 'success' of ideas and beliefs. This is reflected in the logic of 'Memetics', where units of information can be replicated across cultural networks. 'Adcredo' is based around the idea of 'Synchromysticism' - the significance of meaningful coincidences with mystical connotation that might emerge through the collective psyche into consensus reality.
Music by AJA, City and i.o. Font design by Alex Walker. Audio/Visual programming by Matt Woodham. Writing by Bert Preece. Rock face built by Matthew Tully.
AJA:
www.soundcloud.com/aja-ireland
City:
www.soundcloud.com/citymusic33
i.o:
www.ioiomusic.bandcamp.com
Alex Walker:
www.alwalker.biz
Matt Woodham:
www.mdoubl.eu
Produced with with the generous support of Arts Council England.
---
Ascending from the Liquid Horizon
October 21, 2018–January 6, 2019
La Lieu Unique
2 Rue de la Biscuiterie
44000 Nantes
France
On October 21, the exhibition Ascending from the Liquid Horizon opens at le lieu unique in Nantes in collaboration with the Kumu Art Museum in Tallinn. The exhibition is curated by Kati Ilves and includes works by Sol Archer, Joey Holder, Katja Novitskova, Kristina Õllek, Norman Orro, Anni Puolakka and Jaakko Pallasvuo, Laura Põld, Nicholas Riis, Taavi Suisalu, Vello Vinn, Simon Wald-Lasowski, and Guan Xiao.
Ascending from the Liquid Horizon focuses on the possibilities and potentials once proposed by speculative narratives about the future, and reflects on the realm that is currently emerging from the intersection of science, corporate interests, and ecology. Vast developments in technology, advancing hand in hand with rapid climate change, predict a situation far more complex than the current one, defined by an environment where technology levels nature and notions of the biological, natural and terrestrial need to be revised.
Taking place in the hometown of Jules Verne, the exhibition looks closely at the once speculative narratives which have, by now, dissolved into tangible or daily practices. Adapted and appropriated by technocratic global enterprises, many of those visions have seen a rebirth in the rapidly developing labour and market conditions. The exhibited works address this transformative moment from a somewhat ambivalent angle, enabling us to map the core of this rising new realm.
The exhibition is accompanied by a richly illustrated book of the same name co-published with CURA.BOOKS., including essays by Patrick Gyger, Bas Hendrikx, Kati Ilves, and Jaak Tomberg, as well as a short story by Nat Muller, designed by Ott Metusala.
Ascending from the Liquid Horizon is a collaborative project between le lieu unique in Nantes and Kumu Art Museum in Tallinn. The exhibition is part of the international programme of festivities organised in honor of the centennial of the Republic of Estonia, consisting of more than one hundred events across the world. More information on the centennial programme can be found on the web page www.ev100.ee.

---
ROBOT LOVE
15 September - 2 December 2018
Campina Melkfabriek
Kanaaldijk-Zuid
Hugo van der Goeslaan
5613 LE
Eindhoven
Army of Love | Korakrit Arunanondchai | Minoru Asada | Margaret Atwood | Johann Arens | Trudy Barber | Adam Basanta | Will Benedict | Margriet van Breevoort | Bureau d'Etudes | Felix Burger
 | Server Demirtas | Maartje Dijkstra | Stephanie Dinkins | Disnovation | Aleksandra Domanović | Marco Donnarumma | Driessens & Verstappen | Maxim Februari | Zoro Feigl | Gijs Frieling/Job Wouters | Arnon Grunberg | Funda Gül Özcan | Giep Hagoort | Bart Hess | Roger Hiorns | Joey Holder | Pierre Huyghe/Philippe Parreno | Jennifer Kanary| Katerina Kolozova | Kondition Pluriel | Lancel/Maat | Gael Langevin | Lawrence Lek | Koert van Mensvoort | Reija Meriläinen | Reza Negarestani | Ingo Niermann | Albert Omoss | Hans Op de Beeck | Adams Ponnis | Ine Poppe | Suzanne Posthumus | Johannes Paul Raether | L.A. Raeven | Jan Redzisz | Patrícia J. Reis | Tobias Revell | Sam Samiee / Mohammad Salemy | Floris Schönfeld | Bartosz Seifert | Martijntje Smits | Femke Snelting | Giselle Stanborough | Hito Steyerl | Hidenobu Sumioka | Anna Uddenberg | Erik Vlemmix/ Henrique Nascimento | Emilio Vavarella | Anouk Wipprecht | Pinar Yoldas | Liam Young
Robot Love is an interactive expo experience exploring the love between humans and robots. More than 60 artists, designers and scientists ask whether robots are capable of love. And, if you can love them. Wander through the special building and discover what you really feel and think about the influence of technology and innovation on our society. A large number of artworks were made specifically for Robot Love.
Robot Love is the artistic translation of a widely held public debate on the rise of robots in our daily lives. The exponential growth of technology is cause for optimism, but also presents us with ethical dilemmas. Despite the tools at our disposal to be in contact with each other, a larger group of people feels lonelier than ever. Robots fill the gap in the demand for care, attention, love and sex.
The mission of Robot Love is to generate attention for humanity in the midst of advancing algorithms and AI. Robot Love starts from an optimistic view; Robot Love embraces the arrival of robots and AI, because it also offers opportunities to become better people. At the same time, the less attractive consequences of these disruptive technologies are also being researched. Robot Love goes along with the positive welcome of robotics, but also uses the context to emphasize the human side. There is room for fascination, also for conflict, for vulnerability and especially for love. Robot Love does this by organizing a large-scale art event with an exhibition and a public program. In a publication experts give their take on the themes of Robot Love.
---
PAST:
Inside Intel
Opening: 18 October 17:30 - 19:30
Exhibition opening times:
16th October, 2 - 6pm
17th - 20th October 10am - 6pm
St James Hatcham, Goldsmiths, University of London
Stepping into an era already defined by confusion, the exhibition Inside Intel presents a speculative "Silicon Valley Imagineering Laboratory," a 21st century office interior thick with counter-narratives and factual misinformation. Exploring the landscape of contemporary media and technology, Inside Intel investigates their influence on conspiratorial thinking. Artistic methodologies presented in the show range from the architectural modelling of war crimes to speculative design, via browser-extensions and Twitter- bots, taking in both the satirical and the deeply unsettling. Whilst some artworks peddle faux state propaganda and sinister new technologies, others take the form of genuine investigations and purposefully staged analysis.
The result is an environment where fact, fiction, and the theoretically possible seamlessly blur into one another. Mirroring the difficulties we all face when navigating the fog of electronic propaganda that pervades our new media ecosystems, Inside Intel demands an investigative eye to separate the signal from the noise.
Featuring work by: Benjamin Grosser, Bob Bicknell-Knight, Céline Minkyung Park, Cosmic Latte (Andrew Kiddie, Juan Covelli & Neale Willis), Darren Cullen, Davide Bevilacqua & Veronika Krenn, Eva & Franco Mattes, Ewan Jones Morris, Florentin Aisslinger, Forensic Architecture, Iain Ball, Joey Holder, Joseph Steele, Khaled Barakeh, Lucy Sanderson, Marion Balac, Nick Ryan in collaboration with Sean Malikides, Simon Denny, Ted Hunt, Thomas Yeomans and Yuri Pattison.
Curated by Elliott Burns, Jake Charles Rees and India Murphy.
Commissioned in response to the Centre for Investigative Journalism's 2018 Logan Symposium: Conspiracy.
---
Ghost Camp Remnants
4pm, 14 September 2018
La Dépendance
Sur le Pont 31
2610 St.Imier
The Mycological Twist in cooperation with Leslie Kulesh
with contributions by YGRG, Holly White, OMSK Social Club, Joey Holder, Huw Lemmey, Raffael Dörig and Jean-Francois Henry.
La Dépendance & the Mycological Twist invites you for a dinner presentation on their 3 days Ghost Camp workshop.
Ghost Camps are communal camping moments where participants are invited to re-imagine the traditional mythologies around the left through workshops, readings and screenings. How are ideas of communities, ecology and agency mutating through the prism of digital culture and silicon valley business models.
What are the pitfalls of those mythologies and how to overcome them.
The presentation will consist of a display of the remains of the different workshops and their documentation as well as an informal walk through the different notions explored during those 3 days.
---
What Are Deep Belief Networks?
Discussion group 2: The Vampire's Castle
A monthly discussion group led by Dr Andrew Wilson (Derby University) and Joey Holder (Artist).
Wednesday 25 July, 7:00pm
QUAD Gallery, Derby, UK
Please join us in for the second discussion group where we will discuss Mark Fisher's text "Exiting the Vampire Castle" (2013) and Paul Clinton's text "One Man Protest" (2017). Both articles relate to how individuals and collectives call people out, identify with certain groups, whilst denouncing others.
Mark Fisher - Exiting the Vampire Castle (2013) http://www.thenorthstar.info/2013/11/22/exiting-the-vampire-castle/
Paul Clinton - One Man Protest (2017)
https://frieze.com/article/one-man-protest
This event is part of a continuing discussion group where we discuss the construction of belief in online networks, examining the rise of unjust ideologies and fantasies, and how these are capable of affecting our worldview led by Joey Holder and Dr Andrew Wilson, that is welcome to all.
For further information please join the Discussion Group's Facebook page:
www.facebook.com
---
Entangle
1 - 19 August 2018
Open Wed - Sun 11 am - 5 pm
Preview: Tuesday 31 July, 6:30 - 9 pm
Entangle brings together works that poetically respond to the complex relationships and rhythms that exist between the human and the vegetal, the myths and mysteries that arise and the impact of this entanglement on the human psyche. The exhibition will focus on artist film and performance (a mixture of live performance and documentation).
diep~haven is a cross-channel festival of contemporary creation which takes place annually in East Sussex and Normandy, rooted in the towns of Newhaven and Dieppe. Built through a process of collaboration and exchange, diep~haven understands that cultural activity plays an essential role in constructing the way that we live together. diep~haven hosts international artists in residence across an extended cross-channel territory, working in partnership with local businesses, cultural and community organisations to support artists in the creation of new works. The summer festival presents new contemporary artworks as part of a wider programme of exhibitions, events and engagement projects, structured around a central theme.
'Entangle' incorporates artworks produced by those diep~haven artists in residence who have poetically explored the intertwining of or slippage between human and landscape, the myths and mysteries that arise between the two and the impact of this entanglement on the human psyche.
The exhibition takes its cue from a photograph by Victorian artist and garden designer Gertrude Jekyll; a staged image of a gardener dressed as a monk in the woods, a strange and romantic vision that harks back to an even earlier time and invites reflection on the idea of communing with nature.
This emphasis on staging is continued through the re-presentation of two performances created during short residencies as responses to the grounds of the Chateau de Bosmelet in Normandy. Sarah Duffy's piece explores the myth of the Greek goddess Demeter, whose supposed grief for her stolen daughter Persephone and joy at her return explained the changing seasons. Essi Kausalainen's song was composed for the garden of the Chateau and its inhabitants, intended to refigure the emotional landscape of the human in the garden with the help of the vegetal beings – by calling on their sensitivities.
From refiguring an emotional landscape to an actual one, Gabriela Albergaria's drawings are semi-imagined configurations of natural landscapes that she has encountered. Her work for this exhibition takes as it's starting point her residency at National Trust Sheffield Park and Garden where she has created a new large-scale sculpture 'Inanimate Object, or a complete cycle of the soil', which is also included as part of the festival.
Azadeh Fatehrad is presenting 'The Whispers of the Garden', created during her residency at Bois des Moutiers in Normandy. The garden, which was designed along theosophical principles, lies at the intersection of Western and Eastern philosophies. Azadeh Fatehrad's work reflects on the complex co-existence of materiality and spiritual life; chaotic wild nature and the formality of plants arranged in lines; and the temporality of figures and the permanency of patterns evident at Bois des Moutiers.
These pieces are accompanied by other new and existing works that further explore aesthetic, linguistic and biological entanglements between the human and the vegetal. Suzanne Walsh is creating a poetic text for the gallery that explores the relationship between time, language and land. 'FYE-kuss e-LASS-tick-uh' (2014) by Rachel Pimm is a two channel video work in which the soundwaves of the narrator's voice have a striking formal similarity to leaves suggesting a increasing convergence and coexistence of the natural and the technological and man made, whilst Joey Holder's piece 'Porphyrin' (2017) takes its title from a substance common to blood, plants and oil, reinforcing the ultimate connectedness of all things.
There will be live performances by Suzanne Walsh and Sarah Duffy during the opening event on 31 July.
https://www.phoenixbrighton.org/events/entangle/
---


Jarman Award (nomination 2018)
The eleventh edition of the Jarman Award has been launched with the issue of invitations to nominate to curators, commissioners, producers and experts from across the country.
This year's shortlist selected from the nominated artists by a jury panel will be announced in the early summer. The national tour of the shortlisted artist's works will take place throughout the autumn and will culminate with a weekend of events at the Whitechapel Gallery in November. The award winner will be announced in the late November.
Film London Jarman Award is presented in partnership with Channel 4 and it association with the Whitechapel Gallery. The award is endorsed by the Jarman Estate.
---
Alt-Age: Designing Belief
Saturday 19 May: 11am-8pm
Design Museum
224-238 Kensington High St
London W8 6AG
A day of talks, performances and interventions exploring how contemporary conspiracies and belief systems are born, broadcast, and believed.
Every minute new conspiracy theories are born online. They flow through platforms, systems and networks, unauthored and unwarranted. In this age of ubiquitous connectivity, where social media hacking, smart technologies, artificial intelligence and augmented reality are disrupting diplomacy and political communication, how can we trust anything that we are presented with anymore?
To coincide with the exhibition Hope to Nope: Graphics & politics 2008-18, students from the MA Curating Contemporary Art programme at the Royal College of Art have curated Alt-Age: Designing Belief. This event, comprising live performances and a symposium, investigates the role of memes and online message boards in constructing and concealing truth. It invites leading thinkers and practitioners across contemporary art, design and technology, to question how conspiracies are building belief systems, communities and alternative bodies of authority.
Alt-Age is curated by Marlies Augustijn, Helen Barr, Natalia Benitez, Phoebe Cripps, Thomas Ellmer, Raoul Klooker and Helen Neven as part of the Curating Contemporary Art Programme Graduate Projects 2018, Royal College of Art.

www.designmuseum.org
---
Reading Group hosted by The Bad Vibes Club
Thursday 3 May 2018
6 – 8pm
Bloc Projects, Sheffield
Join The Bad Vibes Club (Matthew de Kersaint Giraudeau & Beth Bramich) for a reading group and discussion about how paranoia affects the way we think, and the possibilities for what Eve Sedgwick has called 'reparative reading'. Reparative reading is a powerful corrective to paranoia and cynicism, and a much needed way of engaging with people and ideas that are different from our own.
We will be reading excerpts from Sedgewick's book 'Touching, Feeling' and talking about them. No need to read the text beforehand, just turn up.
The full text can be found here
This event touches on themes explored in Joey Holder's new commission Adcredo: The Deep Belief Network and the event will take place within Holder's installation at Bloc Projects.
–
The Bad Vibes Club is a forum for research into negative states. Founded by Matthew de Kersaint Giraudeau in 2014, The Bad Vibes Club hosted a lecture programme and reading group at Open School East from 2014-2016, has produced one-off events at the Barbican, ICA and CCA Derry, a long term research project, Interruptions, with Field Broadcast in 2016, and is currently in residence at Flat Time House in London where they host a regular reading group and a programme of events.
More info on The Bad Vibes Club can be on their website:
---
Second Nature
Private view: Saturday 21st April 4-7pm
part of Glasgow International
Fri 20 April – Mon 7 May
Opening times:
Sun – Thu: 11am-6pm
Fri – Sat: 11am-7pm
71 Houldsworth Street
Glasgow
G3 8ED
Gossamer Fog and Home-Platform collaborate curatorially to present an extensive group show, with works from: Will Kendrick, Joey Holder, Lewk Wilmshurst, Eva Papamargariti, Christopher MacInnes, Samuel Capps, Diane Edwards, Ben Skea, and Andrew Sunderland
Second Nature; a deep rooted tendency that has become instinctive and habitual, but it is the habitual revision of nature that is now under threat. The origin of the phrase can be traced back to the latin of secundum naturam from medieval 14th century that stood in stark contrast to an alternative phrase of super naturam, that of which is superior to nature, such as God. Humanity's own creationism has started moulding a new world, a new nature…..a second nature.
A world into which biology and technology has become consciously and unconsciously entwined in a post-natural coagulation of materiality. An environment in which plastic veins maintain balanced bodies, molten plastiglomerate rocks congeal on Earth's shores and fluid RNA sequences flow from history into the laboratory. While the simultaneity of our virtual landscape enables us to live out dual lives, the transplantation of human consciousness into mutant vessels brings the prospect of whole new simulacrums of human experience. Algorithmic enzymes will catalyse to stimulate genetically modified wetware, opening the portal to neurobiological techno-transcendence.
As the Bio-Technology dichotomy slowly becomes homogenized, the symbiotic interrelationship can be seen in the ancient Greek word for life - Bios; and the core base level of a computer that a microprocessor uses to start the system - BIOS (basic input/output system). A gateway to a [un]natural feedback loop has been created, flowing from base original nature through computational genomics, into synthetic genes and then back into nature. An ouroboric awakening via cloned snakes.
There is nothing sacred, nothing divine about life as we know it, we are merely a flood of biological mass upon which life clings to as an instrument. We are the slop that bubbled away in the Primordial Soup of 3.5 billion years past and we are what squelched out of the oceans 430 million years ago. We are the anthropomorphic sludge that organised industrial production to define its own geological epoch and we shall continue this lineage into the Xenocene. Suffocating in the slime of Capital as it spews between the cracks of the destruction it has caused, the Bio-Tech Industrial complex drains genetic value from the veins of inhabitants of all species. Self aware Capital became an Accelerationist fabricated fetus implanted into the eviscerated body of Earth, an evolutionary displacement incubating under taut skin.
The sun now rises on a promethean dawn built on biologic scaffold materials composed of extracellular matrices and xenogeneic tissue.
Long live the new flesh....Long live the new bios.
Supported by Glasgow International.
---
Future Love. Desire and Kinship in Hypernature
18 January 2018 - 15th April 2018
HeK
Freilager-Platz 9
4142 Münchenstein / Basel
CH
The group exhibition "Future Love" examines the impact of new technologies and social media on our affective relationships and sexuality.
Artists: Micha Cárdenas (US), Chloé Delarue (CH), Olga Fedorova (RU), Ed Fornieles (UK), Joey Holder (UK), Karen Lancel & Hermen Maat (NL), Mary Maggic (US), Dmitry Morozov (RU), Špela Petrič (SI), Wong Ping (HK), Tabita Rezaire (FR), Una Szeemann (CH), Pinar Yoldas (TR/US), !Mediengruppe Bitnik (CH)
Curator: Boris Magrini
Never has the future of our emotional, sexual and familial relationships appeared more exciting, promising and troubled as today. Biotechnologies are presenting alternative means of reproduction, altering gender roles and their biological boundaries, while also challenging the traditional structures of family ties. New industrial products offer to fulfill unconventional sexual fantasies, which can be realised through both physical and virtual realties. Global connectivity allows for the circulation of alternative models of love and sexuality, which continue to provoke ideological debates among puritans and liberals, but are increasingly accepted by the wider population. This new interdependance of technology, engineering and environment constitutes a new concept: hypernature, an enhanced version of the ecosystem including artificial bodies and their correlations. In this context, some of the most farsighted theorists question our predominating role in the ecosphere, inciting us to go beyond the common discourses about the Anthropocene, while discussing our imperative instincts for reproduction and survival.
This debate prompts us to rethink our identities and our behaviours. Have the recent developments of new technologies and social media fundamentally changed our relationships and sexualities? What influence do they have on our ideas of love, family, and gender roles? Moving from a postdigital background, the international artists participating in this exhibition tackle these questions through a variety of media, from biotechnologies to virtual reality. They give shape to diverse, personal visions regarding our current sexual and romantic inclinations, including aspects not only related to personal romance, but also to sexuality as a sign of affection, a reproductive process or a recreational act. Tabita Rezaire, for instance, creates videos installations in which she merges elements of traditional African culture with cyberfuturism to generate healing mantras subverting the western, patriarchal positions on sexuality, while Wong Ping's flashing animations touch upon sexual repressions and frustrations. Una Szeemann produces 3D printed sculptures that are the result of her meditations, under hypnosis, of modern-day romance in the age of dating-apps, while !Mediengruppe Bitnik display the cynical mechanics underlying precisely these online services. Artist and activist Micha Cardenas has developed apps that are specifically conceived for transgender users, to fill a gap in a market heavily determined by heteronormative models. Correspondingly, Mary Maggic creates fictional documentaries describing DIY protocols for hacking oestrogen, to discuss trans and women's access to such hormones. Some artists, such as Pinar Yoldas and Špela Petrič, speculate about biotechnologies and the possibility of giving birth to designer children or even new species, while the works of Dmitry Morozov (alias ::vtol::) and Karen Lancel & Hermen Maat explore how bio-feedback and wearable devices offer a means to record, analyse and possibly enhance our sexual behaviours. Works of virtual reality such as the ones by Ed Fornieles allow for the experience of unsettling encounters with unexpected partners. Lastly, the compound installations by Joey Holder, Chloé Delarue and Olga Fedorova give shape to visionary and emblematic representations of our modern-day troubled sexuality.
The exhibition "Future Love" offers critical, unconventional and imaginative views on our impending life while commenting on the present evolution of society and the imminent changes, challenges and opportunities that might affect our behaviours. The works on display are speculative, critical and at times utopic, inviting us to contemplate our models of affective relationships that define our condition as human beings and our presence in the ecosphere.
---
RÉUNION Tegucigalpa
23 – 25th February 2018
Performance Festival
La Tigra National Park, Honduras
Artists: Scarlett Rovelaz (HN), Thomas Geiger (DE), Nahun Pérez (HN), Marcel Meury (CH), Leonardo Gonzalez (HN), Sandino Scheidegger (CH), Lucy Tomasino (SV), Natalia Dominguez (SV), Javier Calvo (CR), Paul Maheke (FR), Carlos Fernández (CR), Luca Müller (CH), Miguel Romero (HN) and Johanna Schaible (FR/CH) – curated by Adán Vallecillo.
// ALWAYS // ALREADY // A public screening with works by Nino Baumgartner (CH), Verity Birt (UK), Constant Dullaart (NL), Joey Holder (UK), Shana Moulton (US), Yuri Pattison (IE) and Lloyd Corporation (UK)
hosted by Andreas Wagner & Tanja Rochow
For the opening of Réunion in Honduras, the point of reference for local and international artists will be the La Tigra National Park. What was a disputed mining enclave until the end of 19th century, became Honduras' first national park. It is named after the female puma, which is called la tigra, and true to its name, there are actually several of the elusive creatures around.
In collaboraton with the vegetable and flower farmers of Loma Alta Norte (nearby village), the performance festival will turn away from the audiences of the urban cultural circuit and moves on to more wooded and silent environment of the mountains.
The display window of nature will be the setting for a multitude of activities, such as walks, film projections, conversations and actions. By leaving the institutional field of art spaces and museums, the performance festival in the midst of the cloud forest will open up to new forms of presentations, discussions and experiences around art.
The festival is supported by Random Institute (Zurich), Despacio (San José), Davidoff Art Initiative (Basel), and Y.ES Contemporary (San Salvador). Image by Ayami Awazuhara.
---
SITUATIONS/Post Fail
2nd December 2017 – 4th February 2018
Fotomuseum Winterthur
Grüzenstrasse 44 + 45
CH-8400 Winterthur (Zurich)
Switzerland
Hours: Tuesday–Sunday, 11am–6pm
Wednesday, 11am–8pm
Artists: The show features works by Adam Basanta, Discipula, Peter Halley, Felicity Hammond, Joey Holder, IOCOSE, Michael Mandiberg, Jon Rafman, Harm van den Dorpel and a video contribution by the art critic Joanne McNeil
SITUATIONS/Post Fail is guest-curated by Matteo Cremonesi, in cooperation with the Link Art Center, Brescia.
SITUATIONS/Post Fail examines the moment just after the narratives that consider technological development as an unquestionable phenomenon have failed. The cluster offers a clear and cruel representation of a world in which both utopian and dystopian narratives disappoint and the idea of "future" itself has failed, leaving the field clear for a much more complex and contradictory understanding of our present condition. This representation has bid farewell to the realist paradigm of photography, searching instead for new ways to capture and express the reality of our "post fail condition" through post-photographic practices. Starting from the global economic crisis and the cultural and social contradictions it revealed, the artworks exhibited investigate visual stereotypes, the peculiar urban and architectural landscape surrounding us and the rhetoric it fosters, internet culture and subculture, as well as our everyday relationship with image production.
SITUATIONS is kindly supported by Art Mentor Foundation Lucerne.
About SITUATIONS:
To investigate what photography is becoming, Fotomuseum Winterthur launched its new format SITUATIONS two years ago. SITUATIONS features a dynamic programme that responds to current developments within photographic culture and experiments with innovative interactions of physical and digital spaces. As a research lab, SITUATIONS examines photographic processes in a wide visual and cultural context and challenges our understanding of photography. Numbered consecutively, SITUATIONS are curated as thematic clusters which are presented five times per year.
---
7th MOSCOW INTERNATIONAL BIENNALE OF CONTEMPORARY ART
supported by the Ministry of Culture of the Russian Federation
and the Agency for Cultural Affairs, Government of Japan
19 September 2017 – 18 January 2018
New Tretyakov Gallery
(The State Tretyakov Gallery, 10, Krymsky Val, Moscow)
Curator – Yuko Hasegawa (Japan)
Curatorial assistant – Seiha Kurosawa (Japan)
Artists: Nadim Abbas, Adel Abidin, Nindityo Adipurnomo, Farah Atassi, Belgium, Kanako Azuma, Matthew Barney, Natalia Bazowska, Bahar Behbahani, Björk, Hussein Chalayan, Revital Cohen & Tuur Van Balen, Alexandra Daisy Ginsberg, Rohini Devasher, Louise Drulhe, Olafur Eliasson, Justine Emard & Mirai Moriyama, Cécile B. Evans, Ilya Fedotov-Fedorov, Valia Fetisov, "Forensic Architecture", Theaster Gates, Gauri Gill, Marta Gornicka, Alina Gutkina, Joey Holder, Elliott Hundley, Pierre Huyghe, Ali Kazma, Nile Koetting, Siji Krishnan, Alexey Martins, Mathieu Merlet-Briand, Marie-Luce Nadal, Michael Najjar, Koji Nakazono, Dashi Namdakov, Uriel Orlow, Anastasia Potemkina, Laure Prouvost, Aurora Sander, Susan Schuppli, Sayaka Shimada, Wieki Somers, Yuken Teruya, Sissel Tolaas, Michael Tolmachev, Ryan Trecartin,Hanna Tuulikki, Alexander Vinogradov and Vladimir Dubossarsky, "Where Dogs Run", Robert Zhao Renhui and Marina Zurkow
The Main Project of the 7th Moscow International Biennale of Contemporary Art Clouds ⇄ Forests will take place in New Tretyakov Gallery (The State Tretyakov Gallery, 10, Krymsky Val, Moscow) from 19 September 2017 to 18 January 2018. It will last for four months for the first time in the history of the Moscow Biennale.
The curator of the 7th Moscow Biennale is Yuko Hasegawa, Artistic Director of the Museum of Contemporary Art, Tokyo, and Professor of Tokyo University of the Arts. The project Clouds⇄Forests focuses on a new eco-system formed through a circulation of "Cloud Tribes", who were born on the Internet cloud space, and "Forest Tribes" who are born on cultural origins. The works of the artists of the Main Project will be displayed in a dialogue with works from the permanent exhibition of The State Tretyakov Gallery.
The Expert Council of Moscow Biennale was found this year and includes the heads of leading Russian museums, independent curators and representatives of non-profit foundations – Semyon Mikhailovsky (Rector of the Repin Saint Petersburg State Academic Institute of Fine Arts, Sculpture and Architecture, Commissioner of the Russian Pavilion at the Venice Biennale) ikhail Piotrovsky (Director of the State Hermitage Museum), Zelfira Tregulova (Director of the State Tretyakov Gallery), Olga Sviblova (Director of Multimedia Art Museum), Vasily Tsereteli (Executive Director of the Moscow Museum of Modern Art), Andrey Erofeyev (Co-Chairman of the Russian Section of the International Association of Art Critics (AICA); curator), Alexander Rytov (Director of Stella Art Foundation) and others. The Expert Council takes all creative decisions.
Starting from this year the Moscow Biennale introduced a system for presenting Russian artists to international curator. The curator Yuko Hasegawa received over 600 applications from Russian artists and more than 100 recommendations from the Expert Council, museums and non-profit foundations. As a result, the following artists were selected to participate in the Main Project: Alexey Martins, Anastasia Potemkina, Valya Fetisov, Dashi Namdakov, Ilya Fedotov-Fedorov and the creative association "Where Dogs Run". They will create new works specifically for the 7th Moscow Biennale. In addition, the curator has selected works by Alexander Vinogradov and Vladimir Dubodsarsky, Alina Gutkina and Mikhail Tolmachev from Gazprombank's contemporary Russian art collection.
The Expert Council of the 7th Moscow International Biennale of Contemporary Art selected 69 projects for the Parallel Program of the Biennale with 49 institutions participating. For the first time the Parallel Program introduces so many different types of institutions – from big museums to small workshops and galleries. The Parallel Program includes: Moscow Museum of Modern Art (MMOMA), Multimedia Art Museum, Moscow (MAMM), the centre of contemporary art "Winzavod", VDNKh, creative association XOLST, Darwin Museum, Gary Tatintsian Gallery, Moscow State University Botanical Garden "Aptekarsky Ogorod" and others.
For the first time ever the 7th Moscow Biennale of Contemporary Art will be available through a free mobile app. The app will display a map with detailed guides to every venue and exhibition of the Biennale and the guided tour to the Main project of the Moscow Biennale in the New Tretyakov Gallery, including the plan of the exhibition and list of the artworks with descriptions. The app is a joint project of the Moscow Biennale, Yandex and the Moscow Polytechnic Museum. It will be available on the iOS and Android. The app is built using the technologies of the Bolshoy Muzey (i.e. the Big Museum) platform that was created to expand web-representation of museums.
The 7th Moscow Biennale will be accompanied by a series of special events, including meetings with artists, lectures and discussions. The Moscow Biennale also prepared separately a kid's programme.
Yuko Hasegawa, curator of the Main project:
"Clouds⇄Forests focuses on artists as a creative tribe transitioning, expanding and dissipating, from forest to cloud, rebuilding the subjectivity of spectators and showing that creativity is vital to the creation of new environmental spheres. Taking into account perceptions on the generation of new subjective environmental spheres, the curatorial criteria for this exhibition includes giving life to new technologies as well as exploring ways to obtain animistic artistic languages and connect cultural roots, and leveraging the rhizome-based organic system to traverse history, genres, and media".

Julia Muzykantskaya, the president of the Moscow International Biennale of Contemporary Art:
"This year marks the 7th Moscow International Biennale of Contemporary Art. The Biennale was fully relaunched which a brought a new momentum to the development to the project. First and foremost, because from now the work of the Moscow Biennale is determined by the creative community: the newly established Expert Council of the Biennale makes all the creative decisions and closely cooperates with the curator, that it has selected. The artist statement created by this collaboration will be presented in the New Tretyakov Gallery. This is a new venue for the Biennale that brings about the new level of responsibility but opens broad opportunities nonetheless. Our objective is to show that contemporary art is actually simple and accessible to everyone. The fact that this year most is the Moscow museums, galleries and exhibition spaces take part in the Biennale only testifies that contemporary art is the significant part of cultural life".

Zelfira Tregulova, Director General of the State Tretyakov Gallery:
"Moscow Biennale of Contemporary art is very significant event for the city Moscow. That is why the Tretyakov Gallery is happy to host the Main project of the Biennale this year. We have always participated is this truly large-scale event and every time presented to the guests of the Moscow Biennale an exhibition of contemporary art as well as artworks that bear special significance for the present day. It is hardly necessary to say that State Tretyakov Gallery holds probably the most compelling collection of works in Russia related this time-period. We have always tried our best to keep up with the times. Let us not forget that the founder of the Gallery Pavel Tretyakov used to collect the works that mostly represented the art that was contemporary in his era. Of course, hosting Moscow Biennale in the halls of the Treyiakov Gallery is the special responsibility for us. The theme of the 7th Moscow Biennale is Clouds ⇄ Forests, the combination of high-tech with something primary, something that existed from the very beginning, always and everywhere. We are delighted by the fact that this concept is created by Yuko Hasegawa, a prominent Japanese curator and the Art-Director of the Tokyo Museum of Contemporary Art. We are very keen to see how the Biennale will be merged into the space of the New Tretyakov Gallery on Krymsky Val that exhibits a wide collection of Russian art from the avant-garde of the early XX century to the latest movements of the present day.
From this year the Moscow Biennale has the Expert Council which includes the heads of leading Russian museums, independent curators and representatives of non-profit foundations – Mikhail Piotrovsky (Director of the State Hermitage Museum), Zelfira Tregulova (Director of the State Tretyakov Gallery), Olga Sviblova (Director of Multimedia Art Museum), Vasily Tsereteli (Executive Director of the Moscow Museum of Modern Art), Andrey Erofeyev (Co-Chairman of the Russian Section of the International Association of Art Critics (AICA); curator), Alexander Rytov (Director of Stella Art Foundation) and others. The Expert Council takes all creative decisions.
---
Vasari Digital Animation Series:
Joey Holder and Candida Powell-Williams
18:30 – 21:00
Friday 2nd February 2018
Birkbeck Cinema, 43 Gordon Square, London, WC1H 0PD
Artists Joey Holder and Candida Powell-Williams both use animation to explore the relationship between digital and biological forms. Holder's work considers the structures and hierarchies of the technological and natural worlds, and how these systems are constantly abstracted. Powell-Williams' practice merges sculptural installations, performance and GIFs, using them to address the construction of identity through objects and memory.
Following screenings of work by both artists, Holder and Powell-Williams will discuss hybrids, molluscs, fantasy and the interplay between the digital and the corporeal in their work.
---
Hybrid layers
3 June 2017 - 7 January 2018
ZKM | Zentrum für Kunst und Medien
Lorenzstraße 19
76135 Karlsruhe
Germany
Sophia Al Maria, Auto Italia Southeast (Marianne Forrest, Edward Gillman, Victoria Sin, Pablo Jones-Soler), Glass Bead, Riccardo Benassi, Enrico Boccioletti, Blunt x Skensved (with words contributed by Kari Altmann, Iain Ball, Enrico Boccioletti, Holly Childs, Claire L. Evans, Steffi Hessler, Joey Holder, Yuri Pattison, Nadim Samman, Manu Shyville, Viktor Timofeev, and Elvia P-w), Aleksandra Domanović, Ed Fornieles, Guan Xiao, Yngve Holen & Aedrhlsomrs Othryutupt Lauecehrofn, Rachel de Joode, Delia Jürgens, Daniel Keller, La Plage, Lawrence Lek, Metaphysics (Participating artists: Eddie Peake, Florian Meisenberg, Anne de Vries, Rubén Grilo, Jack Strange and Anna KE, produced by: Philip Hausmeier), Katja Novitskova, Yuri Pattison, Tabita Rezaire, Unknown Fields, Anne de Vries and Yu Honglei
The exhibition »Hybrid Layers« directs the attention of a generation of artists who are concerned with the growing presence of the digital sphere and its impact on society. It presents new perspectives on digital technologies, the Internet and social networks, and examines both the virtual and the physical phenomena of an artistic practice that is fundamentally influenced by the digital.
The positions presented in the exhibition deal with current social, technological and aesthetic debates and reflect how extensively the digital characterizes all areas of our everyday life, our perception and knowledge production. Digital, algorithm-driven imaging and communication systems have today transformed all aspects of our world in a medial way. Current research in the field of artificial intelligence (AI) already reveal the fundamental changes that technological progress will continue to hold for our lives in the future. With their installations, videos, performances and sculptures, the involved artists react to this hybrid penetration of the real with the digital and to inquire how this state shapes our globally networked world.
"Hybrid Layers" thus explores the various aspects of what can be described as a "digital turn" as a "digital age," which, since its occurrence not even twenty years ago, when the amount of digitally stored information surpassed that of the analogue, Our thinking, acting and feeling has changed rapidly. In the exhibition, the digital is the key - the "apriori" - of different cultural and conceptual scenarios, which are shown by the individual works. The free manipulation of the image fundus of the Internet, the recontextualisation and -semantization of the narrative strings derived from it in non-hierarchical, often subjectively shaped, order connections, reveal the embedding of the artistic modes of work into digital perceptual patterns of perception. While the focus of media art for a long time was on the transformation of the analog world into digitality, today artists increasingly are dealing with how the digital can be transferred to the analogue world through the use of synthetic materials or novel printing processes. The different perspectives, which are taken up by the 22 artists and collaborative projects represented in the exhibition, are therefore characterized by a fundamental interest in simultaneously exploring the hybrid layers of digital and physical realities in an unprejudiced, expectant and critical manner in their multi - faceted manifestations. How the digital can be transferred to the analogous world through the use of synthetic materials or novel printing processes. The different perspectives, which are taken up by the 22 artists and collaborative projects represented in the exhibition, are therefore characterized by a fundamental interest in simultaneously exploring the hybrid layers of digital and physical realities in an unprejudiced, expectant and critical manner in their multi - faceted manifestations. How the digital can be transferred to the analogous world through the use of synthetic materials or novel printing processes. The different perspectives, which are taken up by the 22 artists and collaborative projects represented in the exhibition, are therefore characterized by a fundamental interest in simultaneously exploring the hybrid layers of digital and physical realities in an unprejudiced, expectant and critical manner in their multi - faceted manifestations.
---
Materialising the Internet
Co-curator: Nadine Roestenburg
MU
Torenallee 40-06, 5617 BD Eindhoven, The Netherlands
Artists: Morehshin Allahyari, Jip de Beer, Dennis de Bel, Joshua Citarella, Dries Depoorter, Julien Deswaef, Antonio Esparza, Tom Galle & ART404, Mieke Gerritzen, Joey Holder, Matthew Hollings, Kuang-Yi Ku, Jan Robert Leegte, Jeroen van Loon, Lauren McCarthy, Kyle McDonald, Brenna Murphy, Roel Roscam Abbing, Matthew Plummer Fernandez, Daniel Rourke, Brad Troemel, Clement Valla, Richard Vijgen, Valerie van Zuijlen
Exhibition: 6 October - 12 November 2017
Opening: 8pm, 6 October 2017
The internet is everywhere. Set free from the websites and the screens, it now penetrates our thoughts and our bodies and everything around us. Each day, the digital and physical become more integrated – but how does this effect our experience and how do we express the new, augmented reality? These are the questions addressed by Materialising the Internet, in MU from 6 October to 12 November.
Over 20 international artists and designers turn the internet into something tangible. Transposing virtual relationships into real life or running away with the digital representation of the real world they demonstrate the incomprehensible fact that virtual and real are no longer two separate spheres.
Buy your scratch cards at MU for a chance to win up to twenty thousand followers or take a sentimental journey through Geocities' history – back to the days when things were less complicated. See what an aura reading reveals about your smartphone or lose yourself in the intoxicating 3D-prose of the Additivist Cookbook. Social, absurd, critical, formal or metaphorical these work have at least two things in common: a concise analysis of our times and the heart-wrenching transiency of any perspectives on a yet unimaginable future.
---
'Speculative Fabulation'
1pm, 12th November 2017
Chronus Art Center (CAC) 新时线媒体艺术中心
Office: 2F, Bldg 11, No.50 Mo Gan Shan Rd, Shanghai, 200060
办公室:上海市普陀区莫干山路50号11号楼2层
Space:Bldg 18, No.50 Mo Gan Shan Rd, Shanghai, 200060
空间:上海市普陀区莫干山路50号18号楼
'Speculative Fabulation' is part of Viewfinder: ON AIR programme:
ON AIR launches as part of an international showcasing programme, Viewfinder, in Shanghai from 10 till 18 November, alongside the West Bund Art Fair. ON AIR is a collaboration with Shanghai-based International Art and Science Research Institute (AS), which organises interdisciplinary programmes and projects in and beyond China.
As part of the ON AIR programme it will represent seven artists, connecting them with local contacts in Shanghai, and show their work as part of a series of screenings, events and talks in Shanghai.
The artists in the programme are Anne Haaning, Joey Holder, Patrick Hough, Shona Illingworth, Karen Kramer, Torsten Lauschmann and Lawrence Lek.
Programme in Shanghai:
Friday, 10 Nov 17 – Shanghai Vancouver Film School: talks by Anne Haaning and Torsten Lauschmann
17:00 – 17:15pm: Welcome by curators and representative from Shanghai Vancouver Film School
17:15 – 18:30: Artist talk by Torsten Lauschmann
18:30 – 18:45: Break
18:45 – 20:00: Artist talk by Anne Haaning
Venue address: 149 Yanchang Rd, Zhabei Qu, Shanghai Shi, China, 200072
Saturday, 11 Nov 17 – Aurora Museum: screening of work by Patrick Hough, Shona Illingworth and Karen Kramer
13:30 – 14:00: Guests arrive and audience registration
14:00 – 14:15: Introductions from Aurora Museum and programme curators
14:15 – 14:45: Three artists introduce themselves and their work
14:45 – 16:00: Screening programme:
Shona Illingworth, Time Present, 2016
Patrick Hough, And If In A Thousand Years, 2017
Karen Kramer, The Eye that Articulates Belongs on Land, 2016
16:00 – 16:30: Tea Break
16:30 – 16:45: Conversation / artists & curators
16:45 – 17:30: Q&A
Venue address: LuJiaZui, Pudong Xinqu, Shanghai, China 200000
Sunday, 12 Nov 2017 – Chronus Art Center: screening of Joey Holder's work
13:00 – Screening programme:
Selachimorpha, 2017, 5'01"
Ophiucus, 2016, 3'40"
Ophiux, 2017, 21'32"
13:30 – Artist talk/introduction to practice
13:50 – Q&A with audience
14:10 – Finish
Venue address: M50, Bldg 18, NO.50 Moganshan Rd, Shanghai, China
Sunday, 12 Nov 2017 – West Bund Art & Design Fair: Launch of ON AIR programme
16:00 – 16:10: Welcome and arrival
16:10 – 16:15: Introduction to programme from curators
16:15 – 17:15: Artist introductions to work – all seven artists
17:15 – 17:30: Informal networking
Venue address: West Bund Art Center, 2555 Longteng Avenue, Xuhui District, Shanghai
Saturday, 18 Nov 2017 – Chronus Art Center: screening of Lawrence Lek's work
15:00 – 16:30: Programme of films to be confirmed, to be followed by Q&A with the artist
Venue address: M50, Bldg 18, NO.50 Moganshan Rd, Shanghai, China
---
Tenderflix 2017
International Film and Video Competition
Screening at Gorvy Lecture Theatre, Royal College of Art, London
Tuesday, 14 November, 6.30 until 8.30pm
This event is free, but booking is recommended.
Tenderflix is an international experimental film and video competition organised by Tenderpixel. In its 10th year in 2017, we received over 500 submissions for the theme, Daydreaming.
The shortlisted 13 films will be screened on 14 November 2017 at Lydia & Manfred Gorvy Lecture Theatre, Royal College of Art, London, where the winner of the competition will be announced and given the £500 cash prize.
Shortlisted Films:
Sara Procter, The Machine of Total Effishency
Ananda Serné, Echoists of the Takase River
Calum Bowden, Oxygen of Terror
Mati Jhurry, WE CAN ESCAPE TO THE GREAT SUNSHINE
Tom Varley, The Eccentricity of an Ellipse Part One
Milo Creese, No system hang
Daria Jelonek, Technological Nature
Victoria Sin, Part 1: She Was More Than the Sum of My Parts
Joey Holder, SELACHIMORPHA
Max Colson, Construction Lines
Daniel Jacoby, Biwas
Pamela Breda, Voyage Au Bout Du Choses
Rustan Söderling, Tannhäuser Gate
The Jury:
Sarah Cockings & Harriet Fleuriot, artists, and the winners of the 2016 Tenderflix Prize.
Anne Duffau, producer of A – Z an exploratory curatorial platform; Special Projects Coordinator at the RCA London.
Etan Ilfeld, founder and CEO of Tenderpixel.
Christopher Kline, Berlin-based artist; member of CONGLOMERATE – a collaborative Gesamtkunstwerk presented in the form of a television network
João Laia, writer and curator with a background in social sciences, film theory and contemporary art.
---
Designing Desire
FACT
88 Wood Street, Liverpool, L1 4DQ
UK
Morehshin Allahyari, Kuang-Yi Ku, Joey Holder
12 October 2017 - 5 November 2017
Is it possible to change the world without also changing ourselves?
Designing Desire will consider the future of 3D printing, calling into question the fixed way we have been taught to think of our bodies, identities, gender and biological capabilities.
The work within show operates within the realms of visual arts, technological production, scientific exploration and political activism. It's by practicing speculative design - design that is used as a tool to create not only things but ideas, and imagine possible futures - the artists' encourage us to imagine endless possibilities for our future selves.
Through talks and interactions with visitors, the artists will consider how their practices unite in tackling the imposition of limits and regulations by the so-called 'real' world, and how rapid prototyping and digital tools can help us to move past such restrictions, opening up new directions within technological, biological, and sexual advancement.
The starting point for Designing Desire and its series of events, is the collaboration between the three artists for The 3D Additivist Manifesto, a project by Allahyari and Daniel Rourke. The manifesto is a call to push creative technologies to their absolute limits and beyond into the realm of the speculative, the provocative and the weird, and the call resulted in a digital and physical book, The 3D Additivist Cookbook (composed of responses, an extensive catalog of digital forms, material actions, and post-humanist methodologies and impressions), will also be shown as part of the exhibition.
The exhibition is developed with support from the Ministry of Culture (Taiwan) and in partnership with Homotopia, the Liverpool based arts & social justice organisation making art, interventions and participation that inspires and unites communities. The project is also supported by the lab and Design department at Liverpool John Moores University.
Morehshin Allahyari and Kuang-Yi Ku have both undertaken research residencies between 2016 and 2017 in FACT's experimental design space FACTLab, focused on the areas of speculative design and 3D Printing.
The exhibition is developed with support from the Ministry of Culture of the Republic of China (Taiwan) and in partnership with Homotopia: the Liverpool based arts & social justice organisation making art, interventions and participation that inspires and unites communities. The project will also be supported by the lab and Design department at Liverpool John Moores University.
---
Future Fictions

Assembly Point
49 Staffordshire Street, London SE15 5TJ
Opening: Thursday 7 Sep, 6–9pm
Exhibition: 8 Sep — 14 Oct 2017
Pakui Hardware, Joey Holder, Core.Pan and Viktor Timofeev
Assembly Point is delighted to present Future Fictions an exhibition, curated by Mattia Giussani, exploring the different effects of digital capitalism in everyday life.
The show will present new and recent mixed media works by Pakui Hardware, Joey Holder, Core.Pan and Viktor Timofeev – some of whom will be showing in the UK for the first time.
The artists will investigate and challenge the effect of automation and algorithms on digital lives and existence. They will address the making of objects and production of performances under the rules of digital capitalism, examining how their textures and existences change within new experiences of technological ecology.
Seasons:
I had waded through desert landscapes, climbed mountains, faded into lakes, traversing overgrown fields offering nothing but an endless horizon. I detoured via desolate interiors of emptied skyscrapers, hollow shopping malls, former car parks. Harvesting weeds from abandoned gardens and washing myself with water accumulated in ponds resting like uninhabited portals outside of former mega-cities. Presence echoed in absence, just in accordance with the automated cycles.
With my mind in bondage by the occurrence of the present tense, I attempted versions, sculpting fan fictions of alternative Earth histories. In order to retain the future I had to approach the past, bisecting the smell of a sacrificed era.
Seasons returned in patterned sequence. Summer emerging like a dinosaur baby cracking open from its egg. Sun morphing to grey as swarms moved from the southern hemisphere. After all I had witnessed I now omitted my question marks with a simple swipe, an auto-generated cognitive response. In these moments, I depicted myself as a buddha sunbathing in the midst of a volcano. It elevated me and I observed the different layers at stake. Meditating from a bird's perspective I could perceive some of the levels still being a promise of regrowth, of rituals and lyrics being performed in silence.
I studied the work of grid engineers as I tried to keep myself aligned. Derailed only momentarily, as a concept of speeding up the fiction. Some of the spongy zones offered a perfect exploration of genetic insurgencies, perennial bacteria, and a plethora of mind-morphing drugs. A constant sensation of there being more than the mere things that were taking place.
With a thousand networked braids resting along my spine, I could feel the wind approaching hours ahead, allowing me to seek shelter from the angels' harps. Tickling my perception, always close to slipping. I held it together even when the algorithms were feeding off my brain. I let them wiggle through my maze. The magnetic fields seeping through me, sound my cells, ask for resonance, I became its instrument.
I uncomfortably embodied the mythos of the lonesome traveler, a contemporary Ovid in neoprene on the run from an elision of language.
Matilda Tjäder, 2017
———
Graphics produced by Norman Orro
---
Ambient Intelligence
Joey Holder | Anna Mikkola | Jenna Sutela
22 Sep - 1 Oct
PV 21 Sep, 6 - 9 pm
Enclave Lab
50 Resolution Way
London SE8 4AL
Curated by Felice Moramarco
Ambient Intelligence investigates processes of emergence of non-neuronal and expanded forms of intelligence, both in nature and technology.
The works by the three artists hint to expanded and non-hierarchical ways of perceiving, interpreting and interacting with the environment. Operating in a similar way, computational design extracts data from the environment, processes them algorithmically and produces constantly evolving spatio-temporal structures, which result to be driven from matter, rather than being imposed on it.
This convergence of nature and computation brings about what has been called a new ecological paradigm.
---
New Forms Festival
28th - 30th September 2017
685 Great Northern Way, Vancouver, BC V5T 0C6, Canada
This September 28-30th, we are thrilled to be back at the Centre for Digital Media at Great Northern Way, along with relaunching our audio-visual performance series in addition to an all day symposium at the Western Front on the Saturday...
http://www.newformsfestival.com/
++++++++++++++++++++++++++++
EVENTS >>>
New Forms Festival 17 | Thursday Evening
New Forms Festival 17 | Wallpapers
New Forms Festival 17 | Friday Evening Resonance Series
New Forms Festival 17 | Friday Night
New Forms Festival 17 | Saturday Symposium
New Forms Festival 17 | Saturday Evening Resonance Series
New Forms Festival 17 | Saturday Night
TICKETS >>>
https://newforms.tickit.ca/events/2940-new-forms-festival-17
Physical in store tickets at:
Selectors' Records
Red Cat Records
Red Cat Records - Hastings
Ticket prices are based on availability and increase as each tier runs out.
All nights are 19+ events.
++++++++++++++++++++++++++++
NEW FORMS FESTIVAL 17
September 28th – 30th, 2017
Music:
Aileen Bryant, Aïsha Devi w Emile Barret, Aleksi Perala, Archetype, As Longitude, Beatrice Dillon, Bill Converse, Carlos Souffront, Charles Manier, City, The Creatrix, Das Ding, DJ Lag, DJ Stingray, E3, Edna King, Electric Indigo, ENDGAME, FIND MUTYA, Goo, Hamid Drake + Hieroglyphic Being, Hans-Joachim Roedelius, Jonathan Scherk, Juliana Huxtable, Madam X, NAP, Peverelist, Raica, Sinjin Hawke & Zora Jones, SKY H1, Thighpaulsandra, Vladimir Ivkovic, ZUTZUT
Visual Arts:
DYOR, Jennifer Chan, Joey Holder, Julian Hou, Kareem Lotfy, Mackenzie Dunham, Marianne Nicolson, Nicolas Sassoon, Sabrina Ratte, Sara Ludy, Sylvain Sailly, Wild Life Archive,

++++++++++++++++++++++++++++
New Forms Festival 2017 Sponsors:
City of Vancouver
Blackbird
Centre for Digital Media
Creative BC
SFU Woodwords Cultural Programs
SFU's Vanity Office of Community Engagement
Canada Council for the Arts
The Province of British Columbia
Arts Presentation Canada
Heineken
Strongbow
The Western Front
MOA
SAG
++++++++++++++++++++++++++++
New Forms Media Society is a non-profit society and media arts organization founded in 2000 that nurtures and connects local and international artists, thinkers, practitioners, and the public through the annual New Forms Festival. The NFF is part of a larger, international, media and electronic music festival movement, which explores the ever-changing and evolving world of art, while creating a platform for artistic growth. The society wishes to make new media art, music, film, technology-based installation and performance accessible to a wider audience.
We would like to acknowledge the support of the Canada Council Council for the Arts, Arts Presentation Canada, The Province of British Columbia and The City of Vancouver.
We acknowledge the financial support of the Government of Canada through the Department of Canadian Heritage (Canada Music Fund) and of Canada's Private Radio Broadcasters.
We also want to thank past funders: The Lochmaddy Foundation, The Hamber Foundation, The French Consulate of Vancouver and The Koerner Foundation.
++++++++++++++++++++++++++++
---


Our Friends Electric
Adventures in Robotics, AI and Other Stories

1 July – 10 September 2017
QUAD Gallery
Market Place
Cathedral Quarter
Derby DE1 3AS
Artists: Kim Asendorf & Ole Fach, boredomresearch (Vicky Isley & Paul Smith), Anna Dumitriu & Alex May, Joey Holder, Alex Pearl, Stanza
Our Friends Electric is an exhibition in QUAD Gallery featuring artists who explore a range of themes and ideas relating to robots, artificial intelligence (AI), online networks and synthetic biology to highlight our hopes and fears for a present and future increasingly shaped by technological advance.
There has been a glut of recent news reports that obsess with the idea of robots and AI replacing humans in the workplace. We fear apocalyptic scenarios of AI machines rebelling against us; yet advances in robotics, AI and synthetic biological research also point to a bright future free of disease, where we live longer and our lives are made easy.
The artists gathered together for Our Friends Electric draw inspiration from front-line scientific research, yet provide a creative – and emotive – understanding to the continuing moral and ethical questions that surround new and evolving technology. The exhibition features film works; robotic sculptures and automata, and prints/ drawings produced by robots/ AI 'life-forms'.
About the artworks
Digital Painting Bot by Kim Asendorf & Ole Fach playfully posits the questions 'what do computers do in their spare time?' and how do they 'experience the world?' suggesting an artificially intelligent response to the idea of 'leisure'. Robots in Distress by boredomresearch is a single-screen projection using real-time software featuring emotionally sensitive robotic 'agents', who can display despondency, programmed to monitor the environment in a marine habitat. My Robot Companion by Anna Dumitriu & Alex May explores questions of social robotics, asking 'do we want and need robot companions?' And, if so, what kind of robot companions do we, as a society, want? Joey Holder's film work Ophiux suggests a future where we as humans are augmented and upgraded, 'a future in which synthetic biology has been fully realized… and where human biology has been computer programmed'. Alex Pearl examines automata and our relationship with machines, producing films that show his robotic creations moving towards breakdown. Lost in Translation by Stanza features a custom-made robot that makes drawings, in response to a series of texts spoken by into a microphone interface, that are unique to each reader. 'The work questions not only the meaning and interpretation of text but just who controls our understanding of the outputs and indeed what is 'Lost in Translation'.
---
Hot Mud
23 July - 27th August 2017
Jag Projects
81 Spook Rock Road Hudson
NY, 12534
United States
Amy Brener, Andrew Cannon, Andy Onderdonx, Benjamin Phelan, Bradford Kessler, Brian Belott, Carver Audain, Christina Bolt, Colby Bird, Daniel Heidkamp, Dmitri Hertz, Fabienne Lasserre, Hayley Silverman, Haley Mellin, Henry Gunderson, Hugh Hayden, Ioanna Pantazopoulou, Ivana Basic, Jen Forward, Jesse Greenberg, Jessie Stead, Joey Holder, Johannes VanDerBeek, Jon Kessler, Lizzie Fitch & Ryan Trecartin, Madeline Hollander, Nathaniel de Large, Nick Payne, Pooneh Maghazehe, Rachel Williams, Raul De Nieves, Ryan Foerster, Scott Keightley, Theodore Sefcik
JAG projects showcases 35 artist's. Outdoors dispersed amongst the sprawling grounds of a farm, works are installed in fields, woods, winding creeks, barns. And an accompanying exhibition of indoor works on the grounds farm-house.
---
Preview: 06 July 2017, 6:30 - 9pm
Exhibition: 07 July – 29 July 2017
Gallery Open: Thurs-Sat, 12-6pm
South Kiosk
Unit B1.1
Bussey Building
133 Rye Lane, Peckham
SE15 3SN
In September 2005 a virtual plague now known as the Corrupted Blood Incident spread across the online role-playing video game World of Warcraft. Caused by a glitch in a recently added mission, the pandemic rapidly eliminated lower-level characters, drastically impacting normal game play. Throughout the chaos of the incident, programmers imposed quarantines and players took independent measures such as abandoning densely populated cities to avoid infection. Despite this, the virus continued to spread for over a week until fixed by the game's developers. The event attracted the attention of epidemiologists as an example for how human populations might respond in the case of a real-world outbreak.
Using the incident as a starting point, South Kiosk is pleased to present the Corrupt Blood Incident including works by:
Alzbeta Jaresova, Angela Washko, Daniel Shanken, Jamie Shovlin, Joey Holder, Richard Whitby, Tom Kobialka, Tobias Revell and William Martin.
The show will address the themes of landscape, digital failure, monsters and viral transmission.
---
Non Standard
Curated by Mattia Giussani
Lea Collet & Marios Stamatis, Anne De Boer, Joey Holder, Anna Mikkola and Eva Papamargariti
Opening reception 6 - 9 pm, 8 June 2017
8 June - 23 July 2017
t-space
via Bolama 2, 20126, Milan, Italy
Non Standard is a show exploring the relations between human, nature and technology within 21st century networked capitalism. The exhibition will present new and recent mixed media works by 6 emerging UK based artists, some of them showing for the first time in Italy.
The artists in this show will investigate, challenge and come up with new ways of addressing the large and complex technological structure that it's disrupting the links between human affections and the surrounding environments.
____________________________________________________________________________
NON STANDARD: Human and technological mediations with surrounding environments
Matilda Tjäder
'We can call this a slow (media) technological violence of war [..] It relates to the extended environmental impact of the link between contemporary multitempor(e)alities and the media technological materials as part of supply routes and the processes of fabrication involving rare earths and other earth materials that need to be refined for their usefulness as part of production of electronic objects'. (Parikka, J. (2016) A Slow, Contemporary Violence: Damaged Environments of Technological Culture, p.18, Berlin: Sternberg Press).
Because what can be gained from notions of time conflates in the moment of verbalization. Tongues suspend temporality, wrap it up like a bouquet of nettles. If it burns, it spits. Language plays the sad protagonist. In absence of a grammatical loop of constant repetition, an arrow is installed to simulate alibi. A human hand picks it up, tightens and bends it, points it in the direction of a gathering point. Behind the back of all woodpecker-like dialogues, some have gathered to breath in choirs, to attest major chords with minor adjustments. Inviting oxygen in their bodies to formulate human weight on earth.
Author is non and needs everything. Authorship is contested when multiple mouths are synchronously left open. One mouth opens, another mouth delivers the fire. Eating it like fuel, the burning flames lubricate the spitting out of vowels. When sun rises, and tides reside, their intestines are engraved: amorphous circuits finding their way between bodies and soil. Transformation occurs by the slit of each one's tongue.
Eradication of sentences, cut up at first. Fabrications now arrive from other scales permeable. With the inevitably radical form of communication, instructions are up for question. To avoid analogy, bend your tongue and start anew. Speaking in tongues by rubbing their tips to the palate. Amalgamations like networks slide down their throats. Swallowing soil, feeding it with fibers.
Waves are matter that breaks, bends, overlaps, and spreads. It enforces ink to trickle down the canals. Zeros and ones elide abundance. Or, what are their reasons to escape the omnipresence of word objects, when nothing can be reversed and everything can be re-engineered? Permeating a rhythm to aid memory with memorizable formulas. Enveloped and stored in the bodies of the circuit nurtured by fire. Diagnosed as temporal phenomena it breaks the code to write anew. It invokes patterns from signs passed over without semiotic ornament.
Once I'd engaged in the ritual, affective capitalism traversed my mind and asked for chronological location. It had long since carved out a space as an embryo waiting for more to come. Touching the fabric of my mind pattern. The sensation of the flames witnessed how soil had always been the narrator.

www.t-space.it
---
Robot Futures: Vision and Touch in Robotics
One-day symposium at the Science Museum, London
08:30 – 18:00
Saturday 8 July 2017
Dana Research Centre and Library
165 Queen's Gate, Kensington,
London, SW7 5HD
Hosted by Luci Eldridge and Nina Trivedi
Speakers: Dr Petar Kormushev, Gregory Minnissale, Joey Holder, Nea Ehrlich, Bianca Westermann, Ruairi Glynn, Maya Oppenheimer, Dr Helen Hester, Stephen Ellis, Simon Julier, Nicola Plant, Jeremiah Ambrose and Dr Ryan Bishop
This one-day symposium will bring together engineers, scientists, cultural theorists and artists to explore notions of embodiment and telepresence in the field of robotics and in virtual and augmented realities.
Humans are embodied in robotic explorers; endowing them with 'eyes and hands' robots are able to relate perceptions and experiences of places and objects physically unavailable to us. Although such robots might not 'look' human, it is the desire to see stereoscopically, and to feel through all the senses that grant robots anthropomorphic qualities; we see and feel through the robot. In this way robots enable a more embodied experience, which is nonetheless mediated. The development of virtual reality technologies is increasingly enabling us to see and feel as the robot in order to get closer to a more immersive experience.
---
Scissors Cut Paper Wrap Stone
A CCA Derry~Londonderry touring programme
Ormston House, Limerick
24 Mar–27 May 2017
Artists: Alan Butler, Clawson & Ward, Eva Fàbregas, Joey Holder, Jennifer Mehigan, Pakui Hardware, John Russell, Andrew Norman Wilson
Scissors Cut Paper Wrap Stone is an exhibition that takes its title from a 1994 book by Belfast-based science fiction writer Ian McDonald. In the book, McDonald describes a young graphic design student, Ethan Ring, who is able to create images that bypass rational thought and control the mind of the viewer. The ability of Ethan Ring's images to induce tears or ecstasy, to heal and kill people, attracts the interests of governmental forces who see the opportunities of harnessing this power for their own ends. As well as being a story of art's capacities to change people's emotional and physical behaviour, the book is a story of the artist's struggle to manage these responsibilities.
The exhibition of the same name is not a direct response to the narrative of this story but instead stages a number of artworks that explore ideas of how our perceptual and physical behaviours are transfigured by objects, images, and new technologies. Included in the exhibition are works that reference how the physical actions of the body are anticipated by design, such as the animated character of self-assembly furniture in Eva Fabregas' video installation, The role of unintended consequences (Sofa Compact). Also included in the exhibition are works that suggest the body in a "post-human" hybrid state—the puppetry in Andrew Norman Wilson's Reality Models; in John Russell's large prints; and in Pakui Hardware's Transactions, a series of free-standing sculptural works that contain fleshy images of indeterminable organic or artificial matter sourced from NASA's archive. A violence upon the body is suggested by Clawson & Ward in works including their steel "branding iron" sculpture and edited xerox print, This ear says that the artist is not well schooled in anatomy...the ear screams and shouts against anatomy... which depicts an appropriated image of Joseph Stalin's ear. Throughout Scissors Cut Paper Wrap Stone, the body is present in fragments and is subject to various regimes of control and imposition.
Impositions upon the body also exist for viewers of the exhibition as they encounter artworks that have their own autonomous movements: Eva Fabregas' floor-based works, Self-Organising System, and Alan Butler's Orphan Transposition series of spinning laser-etched mirrored acrylic panels, featuring out-of-copyright images of Yosemite National Park that freely circulate online. These works not only suggest the unfixed and fluid status of our physical and perceptual bodies, but they also raise questions about the control of artistic authorship—one of the key metaphors of Ian McDonald's story.
Originally curated by Alissa Kleist and Matt Packer for CCA Derry~Londonderry in Spring 2016, Scissors Cut Paper Wrap Stone tours to Uillinn: West Cork Arts Centre, Skibereen (Ireland), and Ormston House, Limerick (Ireland) in revised iterations, featuring newly commissioned work by artists Jennifer Mehigan and Joey Holder. A publication designed by Alex Synge / The First 47 accompanies the exhibition and is available to purchase in all participating venues and online at www.cca-derry-londonderry.org
The exhibition is made possible through the support of the Arts Council / Arts Council Northern Ireland Touring and Dissemination of Work Scheme and the generosity of all venues.
www.cca-derry-londonderry.org
www.ormstonhouse.com
www.ormstonhouse.com
---
ECOSYSTEMS: AEONS
Virtual online exhibition at: www.vngravity.com
Opening: 7pm, 3rd June 2017
Exhibition: 3 – 9 June 2017
Artists: Rafael Lozano-Hemmer, Donnie Fredericks, Bianca Oravecz, Joey Holder, Blunt x Skensved, Iain Ball, Don Electrq, LATS, Music for your plants
To celebrate the third anniversary of the project, Vngravity presents "Ecosystems: Aeons" an expository experiment that refers to a rarified space and time. The nucleus of this exhibition are the effects caused by the human (and therefore technological) presence in the evolutionary course of nature.
Vngravity will pose a virtual ecology that will combine two plausible future projections occurring simultaneously, intersecting: two eons or eras characterized by the impact of human emanations, whether catastrophic or those that outline the so-called "sixth extinction" or symbiotic, encouraging the evolution of living and artificial systems. This environment will be populated by virtual entities created by artists who have been specially chosen for the proximity of their work with this approach as well as for transforming what the sciences of life, futurology and apocalyptic imaginaries in fiction, offer as raw material. So the pieces would be the result of a bewildering speculation rather than the illustration of such ideas.
ECOSYSTEMS:
The two exhibitions, like the majority of Vngravity, are referred to a rarified space and time. On this occasion they refer to a relatively remote future but with roots in the immediate present. And the core of both is the decisive role of human presence in the course of nature.
Aeon Debris
/
We will generate a virtual environment documenting everything about the pathways that can trigger a sixth extinction having an ecosystem on which many others depend to maintain their balance: the jungle. In this catastrophic scenario we put ideas such as the life after the anthropocene (this is the era in the human-dominated biosphere and its technological extensions) from which the invited artists will populate this landscape.
Aeon Diverse
/
We will generate a virtual environment within a balanced forest but raised in a future where the interactions of the ecosystem have mutated biologically and technologically, but maintaining the vitality of the environment thanks to the human impact on it. Artists will be invited to populate this space.

www.vngravity.com
---
'XGLULX: The Exegesis of Swamp Brain'
Dane Sutherland (mix) and Joey Holder (visuals)
DJ/VJ event for 'WELCOME TOO LATE'
Kunsthal Charlottenborg
Nyhavn 2 DK-1051 København K, Denmark
8-9pm, 28th April 2017
featuring: Iain Ball, Marguerite Humeau, Katja Novitskova, Parker Ito, Anne De Vries, Tue Greenfort and Eduardo Terrazas
When everything from climate to technology is changing at accelerating pace, it's increasingly difficult to keep up. The future undercuts the present and the present recedes into the past at ever greater speed. Artists and documentarists experience arriving too late to the moment they're trying to capture.
Instead of running after time, attempting to zoom in on the present moment, the tendency is now towards zooming out on other and bigger temporalities. This is the premise for the group exhibition Welcome Too Late in light of changes such as explosive population growth, rising temperatures and sea levels, automation, artificial intelligence, growing inequality, prospects of eternal life, resurrection of animal species and mass extinction.
Based on the concept of "Extemporary Art" curator Toke Lykkeberg has selected a number of trendsetting artists who problematize the concepts of 'the contemporary' and 'contemporary art' with works that shifts the focus from the moment to larger time perspectives.
Welcome Too Late is presented in collaboration with the documentary film festival CPH:DOX and opens March 17 at 6 pm – 10 pm. During the period March 16 – 26, Kunsthal Charlottenborg will transform into a festival palace and will function as headquarters for this year's CPH:DOX. In addition to the exhibition, Kunsthal Charlottenborg will also host cinemas, debates, concerts and virtual reality cinema during the festival. Read more about the CPH:DOX-programme.
Social media hashtag: #welcometoolate
---
SELACHIMORPHA
commissioned for Conspiracy Week
The Photographers' Gallery
16 - 18 Ramillies St
London W1F 7LW
10 Feb - 3 May 2017
Commissioned for Conspiracy Week in February, artist Joey Holder takes a particular scene from the 1975 film Jaws to look at the ways in which manipulated images are appropriated and circulated by Internet culture as 'fact'.
The scene, which shows a shooting star flaring behind hero Roy Schneider, has become fodder for conspiracy theories. The ease of 'adapting' and then distributing images – such as deserts, outer space and oceans – offers a rich breeding ground for the fictional and make believe. Taking its name from a scientific classification for sharks, this project morphs between factual and fictional images, symbols and memes; exposing the continually shifting belief systems we use to define our world.
music by: uliK x clubcouture
---
Pictures from a post-truth world:
Conspiracy Week at The Photographers' Gallery
UFOs, sea monsters, shark spies — an upcoming week of shows on conspiracy theories at The Photographers' Gallery shines a light on the alt-fact landscape of the digital age, by Ben Luke
---
Posthuman Complicities
Curators: Andrea Popelka and Lisa Stuckey
Opening: 09 March 2017, 7.00am
Exhibition dates: 10 March 2017 - 14 May 2017
XHIBIT, Academy of Fine Arts Vienna, Main Buliding, Schillerplatz 3, 1010 Vienna
Posthuman Complicities presents artworks concerned with the Atlantic, the deep sea, and concepts of fluidity. The ocean features as a place of violence and resistance. Colonial archives are fragmented and dislocated in terms of both language and image in order to visualize blank spaces created by historiography.
Vilte Braziunaite (LTU/AUT) & Tomas Sinkevicius (LTU/SWE), Joey Holder (GBR), Paul Maheke (FRA/GBR), Jennifer Mattes (AUT), The Otolith Group (GBR), M. NourbeSe Philip (CAN), Stefanie Schwarzwimmer (AUT/DEU) , Wolfgang Tillmans (DEU)
---
Treti Galaxie participating in 'OUTER SPACE' with the show:
"VIVA ARTE VIVA"
Opening: 27 March
28 March - 15 April 2017
FuturDome - Via Paisiello 6, Milano
In a world full of conflicts and jolts, in which humanism is being seriously jeopardized, art is the most precious part of the human being. It is the ideal place for reflection, individual expression, freedom and fundamental questions. It is a "yes" to life, although sometimes a "but" lies behind. More than ever, the role, the voice and the responsibility of the artist are crucial in the framework of contemporary debates.
Viva Arte Viva is also an exclamation, an expression of the passion for art and for the state of the artist. Viva Arte Viva is a Biennale designed with the artists, by the artists and for the artists. It deals with the forms they propose, the questions they pose, the practices they develop and the forms of life they choose.
The Exhibition also aims to be an experience, representing an extroversion movement towards the other, towards a common place and towards the most indefinable dimensions, opening the pathways to a neo-humanism.
---
Ophiux
SONIC ACTS
The Noise of Being (Festival, Exhibition and Conference)
Wed 1 Feb - Sun 26 Feb
Arti et Amicitiae
Rokin 112, 1012 LB Amsterdam, The Netherlands
The first edition of the Sonic Acts festival took place in 1994. Over the years, it has established itself as a thematic festival with a strong focus on contemporary and historical developments at the intersections of art, science, music and technology. Each festival edition explore the chosen theme by means of an international conference, a wide range of concerts and performances, exhibitions and screenings, and embraces a broad spectrum of fields, practices and disciplines. Over the past half decade, Sonic Acts has shifted its perspective from the Universe to planet Earth, from Travelling Time (2012) and The Dark Universe (2013) to The Geologic Imagination (2015). In its 2017 edition, the festival takes its next step, under the title The Noise of Being.
Running from 1 to 26 February at Arti et Amicitiae, the exhibition (which will form part of the festival) features artworks and installations by emerging artists Joey Holder, Justin Bennett, Pinar Yoldas and Zach Blas. The artworks and installations reflect on how climate change, the Anthropocene, rapid technological advances and post-contemporary anxiety affect society, politics and the human body; they speculate on the future of humanity with science fiction scenarios, amorphous blobs, biological evolution, biometric governmentality, queerness, Artificial Intelligences and synthetic biology. The exhibition will be officially opened on 1 February.
________________________________________________________
For Joey Holder's upcoming touring exhibition at Sonic Acts - against the backdrop of the emergent field of computational biology and the Google Genomics project - she invented 'Ophiux', a speculative pharmaceutical company, imagining its use of genetic sequencing equipment and biological machines to collect data from humans and to sample data from other organisms. Holder explains: 'It seems as if everything has become a branch of computer science, even our own bodies probed, imaged, modelled and mapped: re-drawn as digital information'.
Ophiux was originally commissioned by Wysing Arts Centre, Cambridge, with funding from Arts Council England in 2016. The film was co-commissioned with Deptford X, London. With thanks to Dr Marco Galardini, Computational Biologist at the European Bioinformatics Institute at the Wellcome Trust Genome Campus, Cambridge, Dr Katrin Linse, Senior Biodiversity Biologist at the British Antarctic Survey, Cambridge, Alex Walker, Graphic Designer and AJA, Sound Design.
---
alien matter (exhibition)
(part of Transmediale, 'ever elusive', festival 2017)
2nd Feb – 5th March 2017
Haus der Kulturen der Welt
John-Foster-Dulles-Allee 10
10557 Berlin
Germany
Exhibiting as part of Morehshin Allahyari & Daniel Rourke's project: The 3D Additivist Cookbook
Within the scope of ever elusive – thirty years of transmediale, the special exhibition "alien matter" will be on view at Haus der Kulturen der Welt from 2 February to 5 March 2017. The exhibition is curated by Inke Arns and co-financed by Berlin LOTTO Foundation.
"Alien matter" refers to man-made, and at the same time, radically different, potentially intelligent matter. It is the outcome of a naturalization of technological artefacts. Environments shaped by technology result in new relationships between man and machine. Technical objects, previously defined merely as objects of utility, have become autonomous agents. Through their ability to learn and network, they challenge the central role of the human subject.
Approximately 20 exhibiting artists from Berlin and around the world will present works about shifts within such power structures, raising questions about the state of our current environment and whether it has already passed the tipping point, becoming "alien matter."
It focuses on neo-cybernetic couplings between humans, creatures and technologies, and human and nonhuman forces. In this way it considers the possibilities and limitations of artistic expression through media, taking concepts of agency beyond "the human" and new dimensions of materiality into account.
Technologies have become natural components of new object cultures that surround us. alien matter refers to a man-made, partly "intelligent" matter. Exhibiting artists raise questions about the state of our current environment and whether it has already passed the tipping point, becoming "alien matter" replaced by artificial intelligence.
Among the artists are Morehshin Allahyari & Daniel Rourke, Constant Dullaart, Ignas Krunglevicius, Mark Leckey, Joep van Liefland, Sascha Pohflepp, Johannes Paul Raether, Maria Roszkowska & Nicolas Maigret, Suzanne Treister, and Pinar Yoldas.
---
A Retreat in Time
15 October 2016 to 8 January 2017
Big Screen Southend
Alison Ballance, Julia Crabtree and William Evans, Joey Holder, Sean Lavelle, Peter Simpson, Rafal Zajko

An ongoing programme of artist films to coincide with a quarterly artist commission led by Focal Point Gallery. Each quarter is presented in association with the gallery programme and is viewable on a daily schedule between 8.00-10.00am, 12.00-2.00pm, 4.00-6.00pm 7 days a week.
To coincide with 'Exhibition for Go-Getters', the first major solo exhibition in the UK for Austrian artist Torsten Slama, a series of 6 moving image works are presented on Big Screen Southend at the centre of Elmer Square.
---
WINTER IS COMING
(Homage to the Future)
Georg Kargl
Schleifmühlgasse 5
A-1040 Wien
Vienna
9 Sept - 23 Dec 2016
Andreas Angelidakis, Merike Estna, Michael Gumhold, Joey Holder, Kolbeinn Hugi, Kris Lemsalu, Jaakko Pallasvuo, Natasha Papadopoulou, Angelo Plessas, Agnieszka Polska, Triin Tamm
curated by_Maria Arusoo
The exhibition takes place in the context of the gallery festival curated by_vienna:
[My Origins? I Made Them Up].
The theoretical starting point for the participating galleries and curators is provided through the eponymous essay by cultural theorist and author Diedrich Diederichsen.
With the project curated by_vienna, the Vienna Business Agency and its creative centre departure have been supporting cooperation between Viennese galleries for contemporary art and international curators since 2009.
---
Open daily: 25 Sept - 20 Nov 2016
Wysing Arts Centre
Bourn
Cambridge
CB23 2TX
UK

Ophiux is a solo exhibition of new work by Joey Holder comprising an ambitious immersive installation and film that has emerged from her residency at Wysing in 2015.
Ophiux gives a glimpse into a near future that whilst fictional, is not far from reality and is founded on current scientific research. The work imagines a future in which synthetic biology has been fully realized and applied to both advance human evolution and increase life expectancy, and where human biology has been computer programmed. The installation includes a film work and a 'futuristic medical room'.
To conceive the exhibition, Holder has worked in close collaboration with scientists she met during her residency at Wysing in 2015 - Dr Marco Galardini, a Computational Biologist at the European Bioinformatics Institute at the Wellcome Trust Genome Campus, Cambridge, and Dr Katrin Linse, Senior Biodiversity Biologist at the British Antarctic Survey, Cambridge.
Ophiux visualizes how current digital developments are used to extract data from DNA. The exhibition proposes that in the future the human population, and millions of other organisms, will have been genetically sequenced in order to extract data, with the aim of furthering life. Holder's work reflects on the reality of today's healthcare, in which our bodies are increasingly mapped and digitized.
The installation includes larger than life-sized models of biological imaging machines as well as genetic sequencing equipment. It simulates not only the collection of data from our own bodies but also the sampling of data from other organisms by a speculative pharmaceutical company: 'Ophiux'
In conjunction with the exhibition, Holder will deliver a Study Day that will take place on Saturday 29 October, 2-6pm at Murray Edwards College, New Hall, University of Cambridge, as part of the Cambridge Festival of Ideas, details are available here.
Ophiux is located across two sites with the main exhibition platform at Wysing Arts Centre, and aspects of Joey Holder's research for the project shown at AND/OR Gallery, London from 14 October-12 November, 2016. The film has been co-commissioned by Deptford X where it premiered at their festival in September 2016, followed by a tour to other arts and science venues across the UK to be announced at a later date.
The exhibition is made possible with a generous grant from the Arts Council England.
Very special thanks to Alex Walker (graphic design) and AJA (sound design).
---
PROGRESS BAR: DECEMBER 2016
ART AFTER THE POSTHUMAN – BOUNDARIES AND RELATIONS
1 DECEMBER 2016, 18:30-21:30
LIGHTHOUSE
ANNA MIKKOLA AND GUESTS
Progress Bar is a regular, ear-to-the-ground, evening of new art, new music and, hopefully, new friends.
This special edition of Progress Bar is curated by artist Anna Mikkola – our current Lighthouse Studio Resident.
During her residency, Anna has been researching robotics, automation and the future of work. While the automation of production and services are increasing, people are displaced from their jobs, and societies face rising unemployment. At the same time, the environment has to carry the burden of possibly increasing production.
The Progress Bar event will expand from this research. The evening includes a screening of artist videos and a talk by British philosopher David Roden on posthuman poesis. The video works explore from various angles peoples' relation to the environment and to machines. They show how human boundaries are interrogated in different ways, for example, through developments of technology and science, such as biochemistry.
Daria Martin's Soft Materials, shot in the Artificial Intelligence Lab at the University of Zurich, explores the communication (both physical and verbal) between humans, machines and nature. Jesse Kanda's music video for Björk, Mouth Mantra, dives deep within human anatomy, whereas Sasha Litvintseva and Isabel Mallet's The Stability of the System, travels through geological time.
The programme also includes videos by Korakrit Arunanondchai with Alex Gvojic, Julieta Aranda, Joey Holder and Anna Mikkola.
---
September 2016
5 Questions with Joey Holder
by Emily Steer

Joey Holder has worked closely with scientists to create Ophiux, a new installation and film work which imagines all life as the source of data for human evolution. The British artist will be showing soon at Cambridge's Wysing Arts Centre.
Can you tell me a bit about Ophiux?
The ideas for Ophiux started out on a residency at Wysing Arts Centre in the spring of 2015 for their programme titled The Multiverse. Rather than thinking about the multiverse as something outside of our own worldview, something that lies beyond, in outer-space or elsewhere, I wanted to focus our own environment. Much of the world's natural life remains undiscovered, for all our technologies we still don't know most of the bacterial life that exists on the palm of our own hand. We frequently hear about scientific discoveries that dispel our preconceptions; life-forms that have evolved to deal with intense conditions and hostile environments. One of the most perplexing is the existence of complex communities of creatures in deep volcanic ocean trenches that survive in extreme heat without light or oxygen. To us they are inhabitable 'alien universes' and have the potential to change our preconceptions and theories. They are not part of speculation or science fiction and indeed are much stranger — these 'alternate universes' exist here on earth. READ ON

---
Artist Profile: Joey Holder
BY JAMIE SUTCLIFFE

The latest in a series of interviews with artists who have a significant body of work that makes use of or responds to network culture and digital technologies.
Jamie Sutcliffe: I'd like to talk about your understanding of the internet as an expanded territory or ecosystem, specifically in relation to the series of Tumblr sites you maintain because I always feel this disorienting sense of submersion when I scroll through them. Whether they're gathering images relating to the emergent infrastructures of biotechnology, strange sashimi plates, or rarely seen organisms, the sites are vertiginous acts of species-othering. Experiencing them is like peering over the edge of a subaquatic trench into some kind of abyssal future or timeless pre-history, with all the attendant alien ecologies. Do you see the sites as having some kind of destabilising function in the complexities they suggest? (i.e. are they supposed to freak me out and make me feel vulnerable?)
Joey Holder: My Tumblr sites started out as a way of simply collecting images for specific themes I was researching for exhibitions. They acted like sketch books or mood boards which I could quickly refer to when thinking about a project. As they grew over time, I started to think about them more as works in themselves and about how a collection of found images could become distinctly my own work.
My Tumblr site Dark Creatures features an array of creatures that don't seem to fit within the fabric of our usual day-to-day existence. It's not my aim to freak people out with my image choices, but make them more aware of the breadth of life forms which exist right here on earth.
READ ON: www.rhizome.org
---
Art Monthly
October 2016
Profile: Joey Holder
by Tim Dixon

The London-based artist explores the limits of the human by looking at how we experience the non-human and alien.
"The moment we invent a significant device for communication–talking, drums, papyrus...we partially reconstruct the self and its world, creating new opportunities (and new traps) for thought, perception and social experience..." READ ON
---
'The Mutants We Will Become'
by Chris Fite-Wassilak
Envisioning hybrid ecologies of the next age: Rachael Champion, Joey Holder and Rolf Nowotny
A man contracts an unknown illness: rainbow-coloured, rotting boils begin to cover his face and body. Afraid of being infected, his neighbours cast him out of the village, to live alone in a hut in the nearby forest. There, he swells and mutates into a reeking, globular mass, his distended form almost seeming to merge with the mushrooms and moulds that have grown in his fetid dwelling, as he spends his days painting flowers and animals. Hideshi Hino's manga fable Zoroko no Kibyou (Zoroku's Strange Disease, 1969) culminates in the villagers marching into the woods to kill the deformed man. What they find in his stead is a giant turtle with a magnificently bright shell – the colours of which match Zoroku's psychedelic pustules – who then disappears. All that remains is a series of luminous landscape paintings made with blood and pus. READ ON
---
A Weekend of Weird
Sat 26 November, 10:00am - Sun 27 November, 4:00pm
Loughborough University
Martin Hall
Loughborough
LE11 3BT
Where does the real end and the unreal begin?
Can we even distinguish one from the other?
The Weird is an emerging field that encompasses literature, film, music, art and performance. Its world is subtly strange, uncanny, irrational, inexplicable, questioning our everyday environments and perceptions and implying that our world is far more bizarre and disturbing than we would like to believe.
A Weekend of Weird brings together writers, performers, filmmakers, artists, publishers, academics, enthusiasts and celebrants to ask: what is the Weird? Where did it come from? Where is it going?
The weekend will comprise panel discussions, live performances, film screenings and a specialist book fair. It is organised by Radar in collaboration with Nick Freeman and Dan Watt from Loughborough University's School of the Arts, English and Drama.
A Weekend of Weird centres around a series of main panel discussions with contributions from John Hirschhorn-Smith, Andrew Michael Hurley, Timothy Jarvis, James Machin and Mark Valentine. These sessions will be interspersed with live performances and a series of specially curated film programmes.
For this programme Radar has commissioned new works by Joey Holder, Ben Judd, Tai Shani and artist collective Reactor. There will also be screenings of work by Sidsel Christensen and Pauline Curnier Jardin.
---
Mould Map 6 — TERRAFORMERS
Group Exhibition & Events Series
Bonington Gallery, Nottingham
17th September to 21st October 2016

In a break with the publication format of earlier editions, Mould Map 6 will take place as an exhibition / walk-in magazine running over 5 weeks and including talks, screenings, performances and open workshops. Set against the background hum of sci-fi imaginaries common to all Mould Map projects, TERRAFORMERS brings together over 50 practitioners whose work encompasses various approaches to world making, alongside historical visualisations of possible futures and their role in shaping the present.

Artists; Alexandre Bavard, Antwan Horfee, Ben Mendelewicz, Blue Firth, Brenna Murphy, CF, Caley Feeney, Daniel Swan, Daniel Wallace, David Steans, Dunne & Raby, Ed Fornieles, Edwin Burdis, GHXYK2, Andy Healy, BankBank & Swee Neezy @ WAINSTOP, GW Duncanson, Guimi You, Hannah Bays, Hardeep Pandhal, Jaakko Pallasvuo, Jacob Charles Dietz, Jacob Ciocci, Jake Kent, Joey Holder, Jonny Negron, Joseph P Kelly, Julien Ceccaldi, Kitty Clark, Lala Albert, Lando, Leon Sadler, Lucas Dillon, Miguel Angel Valdivia, New Scenario Archives (Adam Cruces, Anne Fellner, Aoto Oouchi, Burkhard Beschow, Camilla Steinum, Clemence de la Tour du Pin, Dorota Gaweda & Egle Kubolkaite, Joseph Hernandez, Paul Barsch, Ronny Szillo, Thomas Payne,Tilman Hornig, Zack Davis), Noel Freibert, Parker Ito, Peter Nencini, Ruth Angel Edwards, Sam Hewland, Stefan Sadler, Tania Kerins, Tom Davis, Travess Smalley, Tristram Lansdowne, Viktor Hachmang, YY Kawaii and Yannick Val Gesto.
With workshops led by James Langdon, Peter Nencini, Joseph P Kelly and Jonathan Chandler. Screening series with works by Bedwyr Willams, Ericka Beckman, Jaakko Pallasvuo, Joey Holder, Stathis Tsemberlidis and Yuri Pattison. Additional texts by Miranda Iossifidis, Kitty Clark and Hui-Ying Kerr
Curated by Hugh Frost & Leon Sadler.
---
VG AWARD
3 September–17 September 2016
Annely Juda Fine Art
4th Floor, 23 Dering Street
London W1S 1AW
Aaron Angell, Iain Ball, Oliver Beer, Beth Collar, Laura Eldret, Jamie Fitzpatrick, Patrick Goddard, Joey Holder, Marguerite Humeau, Lawrence Lek, Rebecca Molloy, Athena Papadopoulos, Viktor Timofeev.
The exhibition of the 13 artists who have been put forward by the curator Richard Grayson for the annual Vordemberge-Gildewart Foundation Prize will run from 3 – 17 September 2016.
Each year a substantial prize of over £40,000 is given to one artist and for many years it has been one of the largest awards in Europe. The awards have been presented in many different European countries, often in important museums. An international jury including museum directors, art historians, art critics and artists will make a decision at the beginning of the exhibition who should be awarded the prize. The only constitutional condition from the Foundation is that the artists should be practising and under 35 years old as the idea of the prize is to help an artist financially in the more formative years.
Friedrich Vordemberge-Gildewart, who was born 1899 and died 1962, was a member of a number of important groups such as de Stijl, where he worked with artists such as Piet Mondrian and Theo van Doesburg. The Vordemberge-Gildewart Foundation was founded nearly 40 years ago in 1977 by his widow Ilse Engelina Vordemberge, née Leda, who wanted very much for this award to be there to help young artists in the name of her husband and his teachings and therefore set up this foundation before her death.
This year's prize has been curated by Richard Grayson. Grayson states:
"What directed my thinking in this particular iteration was a consideration of practices that in one way or another inflect or reflect the technological innovations that are shaping our culture. This seems to me in concordance with the approaches and practices of Vordemberge - Gilderwart himself who, as an artist made work the conception of which was inflected by the technologies of his time, the machine, and the way that the industrial was shaping ways the world might be imagined. … In his case this took him into the direction of 'Absolute Art" a pure modernist abstraction that increasingly excluded reference to the outside world. In today's context, digital innovations seem to lead more towards a hybridity rather than a purity so the artists represented here all elide codes and combine approaches. Not all of the works make reference to the digital realm but all of the works mix codes and cross definitions and indexes. The artists are generating new and innovative hybrids that are shaped by or reflect, the complex operations of these technologies and their wider play on our worlds and our imaginations."
---
If the body were a museum. There would be seven galleries.....
New Scenario's BODY HOLES

from 3rd June 2016 online: newscenario.net
Your gate to crawl in through!
Experience Gregoire Blunt & Emmy Skensved, Antoine Renard, Paul Barsch, Marian Luft, Edward Marshall Shenk, Pakui Hardware, Caspar Jade Heinemann, Yves Scherer, Burkhard Beschow & Anne Fellner, Joey Holder, Jake Kent, Bruno Zhu, BB5000, Vincent Grunwald, Anselm Ruderisch, Antoine Donzeaud, Silas Inoue, Viktor Fordell, Christopher L G Hill, Ed Fornieles, Tilman Hornig, Sol Hashemi, Martijn Hendriks, Adam Cruces, Debora Delmar Corp., Rachel de Joode, Rasmus Høj Mygind, Sean Raspet, Carson Fisk-Vittori, Anna Sagström, Enrico Sutter, Josephyne Schuster-Brandt, Jaakko Pallasvuo, Clemence de la Tour du Pin, Bradford Kessler, Emanuel Rossetti, Fenêtreproject (Dustin Cauchi & Francesca Mangion), Santiago Taccetti, Michele Gabriele, Jesse Darling, Mikkel Carl, Sandra Vaka Olsen, Dorota Gaweda & Eglé Kulbokaité, Hana Earles, Ullrich Klose, Victoria Dejaco in the most intimate new scenario.
BODY HOLES, the third and most elaborate exhibition project by New Scenario, explores the natural orifices of the human body as practical exhibition spaces for art. The show builds on macro shots of artworks by over forty international artists and artist groups, installed in the mouth, nose, ears and more explicit areas.
curated by New Scenario in collaboration with Nuno Patricio, o fluxo
BODY HOLES will be released June 3rd as an online exhibition at the 9th Berlin Biennale #FearOfContent and newscenario.net
---

DEEP INSIDE

5th Moscow International Biennale for Young Art
curated by Nadim Samman
1 July - 10 August 2016
Vorotnikovsky Pereulok 11 st 3
Moscow, 127006
Everyday, millions of people have out-of-body experiences, enabled by avatars on social media, or in multiplayer game worlds. Meanwhile, Google Earth and air travel make us accustomed to the god's eye perspective of satellites, in orbit, beyond gravity. Set against the challenge of dealing with environmental change, the vagaries of a global economy, social instability, and the moral fallout from the information revolution, the poetry of escape grows ever more seductive. Lust for an absolute outside powers fantasies of emigration to unspoiled beaches, and exotic schemes to colonize Mars.
But what if such visions are traps and not escape? What if the ticket price is too high? With every blast­off, some earth is scorched. The tabula rasa is a modernist conceit. Its shimmering surface has, for too long, obscured the depth of fractals and the fact that, beyond a canvas or spreadsheet, there is no square one. Can't we imagine a radical inside? For every evacuation plan we need a thousand reconceptions of home: not conservation but renovation of the spaces we inhabit—conceptual and material hacks. The weight of opposing forces, in static or attack, demands that we develop new forms of judo.
We are living through an acceleration that is profoundly altering society, ecology, and the parameters of identification. Networks establish a continuum between the wildest shores of sentient life and the facts of matter. A new generation of artists is exploring the multifaceted structure of this landscape. They are recording and remodeling the here and now from deep inside. Their tools are short circuits, cryptology, mutation, acts of hybridization and infection. They are subterranean builders, pirates, linguists and remixers. And we are already home.
Artists:
Ozan Atalan, Stacy Belevicheva, Matilde Benmayor, Julius von Bismarck, Pamela Breda, Vladislav Brut, Russia, and Alisa Beketova, Ekaterina Burlyga, Olga Butenop, Martin Callanan, Noor Ali Chagani, Julian Charrière, Revital Cohen, Israel, and Tuur van Balen, Juan Covelli, Chris Coy, María Dalberg, Jasmin Daryani, Petr Davydtchenko, Jonathan Doweck, Liat Elbling, Hüseyin Mert Erverdi, Karin Ferrari, Christian Fogarolli, Verena Friedrich, Veronika Geiger, Adam Gibney, Iuliana Golub, Florian Goldmann, Katharina Gruzei, Logi Leó Gunnarsson, Ali Jan Haider, Elisabeth Haust, Joey Holder, Marguerite Humeau, Marc Johnson, Graham Kelly, Daria Khlapova, Felix Kiessling, Paul Kneale, Fabian Knecht, Darya Koltsova, Lilia Kosyreva, Egor Kraft, Ksenia Kuleva, Joshua Leary (Evian Christ), Great Britain, and David Rudnick, Juliana Cerqueira Leite,Ekaterina Lukoshkova, Eli Maria Lundgaard, Vlad Lunin, Steve Maher, Nadja Verena Marcin, Maxime Marion, France, and Émilie Brout, Zoë Claire Miller, Alice Miceli, Marina Moskalenko, Russia, and Tatiana Smirnova, Lee Nevo, Alisa Nikolaeva, Ismael Ogando, Tim Parchikov, Pau Pahana, Claire Paugam, Davide Quayola, Marina Ragozina, Martin Reiche, Rune Rasmussen, Farid Rasulov, Paul Rosero Contreras, Vesna Roha?ek, Andrew Ranville, Jeremy Santiago-Horseman, Hadas Satt, Dagmar Schürrer, Julia Selin, Jura Shust,Rustan Söderling, Emmy Skensved, Canada/Germany, and Grégoire Blunt, Joe Sobel, Wilf Speller, Yulia Spiridonova, Arya Sukapura Putra, Natalia Tikhonova, Alvaro Urbano, Ivar Veermäe, Martin Volman,Addie Wagenknecht, Beny Wagner, Andrew Norman Wilson, Helga Wretman
---
TETRAGRAMMATON
Joey Holder and John Russell (duo show)
LD50 Gallery
Opening: 21st April 7-10pm
Exhibition continues: 22nd April - 4th June 2016
LD50, 1st floor, 4 Tottenham Rd, London N1 4BZ
---

ILLUMINA
at Green Ray
Opening 8th May, 3pm
Green Ray, Unit 7, Enclave, 50 Resolution Way, Deptford, London SE8 4NT
DATA BANKS of bio-genetic, neural and mediation information about individuals are the true capital today, as the success of Facebook demonstrates at a very banal level. Data Mining includes profiling practices that identify different types of characteristics and highlights them as special strategic targets for capital investments. (Braidotti, The Posthuman)
Joey Holder presents 'Illumina', an immersive 'liquid environment', based upon Craig Venter's research in microorganisms' DNA, on his 'Global Ocean Sampling Expedition'. Using footage from remotely operated underwater vehicles, she simulates the collection of genetic data from creatures in the deep ocean.
As Alexander R. Galloway and Eugene Thacker claim, the human Genome Project and the notion of a genetic code helps to understand "life" at a molecular level:
"Biomolecules were quickly understood to be informed matters, containing either directly or indirectly the information needed for carrying out cellular processes. In molecular biology and genetics, such processes are commonly referred to as "biological control."
Illumina borrows the name from a company devoted to the development of genetic data mining technologies, in order to improve research in health treatments and cures.

–Project curated by Gabriela Acha with the support and collaboration of Green Ray.
---

Tipping Points:
Flourish and Collapse in the Circularity of the Geostory
at Podium
—
Andreas Ervik (NO) | Joey Holder (UK) | Rachel Pimm with Lori E. Allen (UK) | Jakob Kudsk Steensen (DK)
Curated by Worm/Angela Chan (UK)

—
I am a compost-ist, not a posthuman-ist: we are all compost, not posthuman. Donna Haraway, 2015.
The tipping points of climate change are anthropogenic and summon a forecast for an eventual all-species mass extinction. They range from microscopic to macroscopic in scale: from the manipulation of the genetic, internal architectures of living beings to the geological deconstruction of natural landscapes. Organisms are no longer organic.
To avert these tipping points calls for an activation of symbiosis between Earthlings of all species, to end the hyper-branded avant-luxury environment of the Capitalocene and to eradicate all traces of the combusted Anthropocene. This is a new geostory: the Chthulucene re-worlding for a multispecies ecojustice.
23rd April – 8th May 2016
Open: Friday-Sunday 13:00-17:00
Supported by Arts Council Norway
Podium, Hausmanns gate 34, 0182 Oslo, Norway
www.podiumx.no
Worm is an online platform for art and ecology.
---

1.7TB
HOSTED BY COSMOS CARL (online)
Launched: 19 Feb 2016
A downloadable torrent 1.7TB in size containing the complete contents of Joey Holder's hard drive.
---
S U N S C R E E N
A commission by EM15 for
the Venice Biennale 2015
40 screen-based works curated by Candice Jacobs
DOWNLOAD AVAILABLE HERE: www.sun-screen.uk
---

AFTER LONDON
featuring:
Plastique Fantastique, 'LonDonateller' a film by Mark Leckey, Ayesha Hameed, Da Thirst, Joey Holder, Mikey Tompkins, Benedict Drew
The Horse Hospital
EVENT: Sat 9 April 2016, 7-10pm
The Horse Hospital, Colonnade, Bloomsbury, London WC1N 1JD
---

Ambiguity 3
Hosted by Sarai Kirshner & Valinia Svoronou
at Green Ray
featuring:
Iain Ball, Susanna Davies-Crook, Frederick Duffield, Ali Frazer, Cassandre Greenberg, Joey Holder, Lito Kattou, James Lowne, Clifford Sage, Valinia Svoronou, Tess Tap, Owen Thackeray
EVENT: Fri 11 March, 6-10pm
Green Ray
Enclave 7, 50 Resolution Way, London SE8 4AL
---
LAMENT OF UR
Joey Holder and Viktor Timofeev (Duo show)
KARST
George Place
Plymouth
PL1 3NY
UK

Opening: 7-10pm, Friday 13th November 2015
Exhibition Continues: 18th November until 12th December 2015
++++++++++++++++++++++++++++++++++++++++++++++++
Environmental Metagenomics, Ecological Paralysis
Self-monitoring, Self-sensing, Self-determinism, Self-defence
The complexity of their differences called to question the current assumption that they evolved from a similar point of origin. There was suspicion that something else was at work, which involved a highly specialized and self-assembled alchemy.
Timescales were largely irrelevant anyway, as there was no linear travel through space around the surface of a planet; they could essentially balance on the gravitational field and ride it like a wave.
The more they travelled, the more advanced they became, dynamically shape-shifting and continually self-propelling themselves through space. All that was left was a set of arithmetic patterns and traces of an ideographic language.
---
The Uncanny Valley
27 September to 8 November
Launch: 26 Sept, 6-8pm
Wysing Arts Centre
Fox Road
Cambridge
CB23 2TX
UK
Julia Crabtree and William Evans, Benedict Drew, Sidsel Meineche Hansen, Holly Herndon, Joey Holder, Sophie Jung, Lawrence Lek, Rachel Maclean and Katja Novitskova
A group exhibition exploring the phenomenon of "the uncanny valley" through computer generated imagery, computer game design, video, photography and kinetic sculpture.
The Uncanny Valley is a phrase that was coined by robotics professor Masahiro Mori as a way to describe an emotional response that can be measured when encountering objects that are hyper-real; where there is a moment of intellectual uncertainty about what is being viewed that gives way to a feeling of discomfort or disorientation. More recently the term has been applied to computer game design and CGI in the film industry.
This group exhibition aims to explore the phenomenon, alongside contributing to the discourse around screen based and digital works, by exploring the aesthetics of the uncanny through computer generated imagery, computer game design, video, photography and kinetic sculpture.
The majority of the artists selected for the exhibition have an already existing relationship to Wysing through having participated in residencies, retreats, exhibitions and, in the case of musician Holly Herndon, the annual festival of experimental music.
Wysing hosts an ongoing series of talks by artists, and leading academics and scientists based at the University of Cambridge, and some of these discussions have helped to shape the exhibition.
The exhibition is supported with funding from Arts Council England and the Henry Moore Foundation and is curated by Wysing's Director, Donna Lynas
---
A Plague of Diagrams
ICA
(Theatre space)
20-23 Aug 2015
Institute of Contemporary Arts
12 Carlton House Terrace
London
SW1Y 5AH
Plague of Diagrams is organised by David Burrows and Dean Kenning in collaboration with Ami Clarke, Andrew Conio, John Cussans and David Osbaldeston. The collaboration has developed out of discussions and events staged by the Diagram Research Use and Generation Group (DRUGG).
Contributors: Rachel Cattle & Jenna Collins, Neil Chapman & Gillian Wylde, Ami Clarke, Andrew Conio, John Cussans, David Burrows, Benedict Drew, English Heretic, Nicholas Gansterer, Joey Holder, Dean Kenning, Christoph Leuder, Stine Llungdalh, Adelheid Mers, Andrew McGettigan, Sharon Morris, Mike Nelson, David Osbaldeston, Plastique Fantastique, Patricia Reed, John Russell, Erica Scourti, Andy Sharpe, Kamini Vellodi, Martin Westwood and Carey Young.
"How many of these rough political rats are there around us? How many of them break things they don't understand? How many of these rats simplify? How many of them have built such homogeneous, cruel systems upon the horror of disorder and noise?" Michel Serres, The Parasite
"The plague is met by order; its function is to sort out every possible confusion." Michel Foucault, Discipline & Punish
Plague of Diagrams is an exhibition and a programme of performances, talks and discussions concerning the relationships between diagrammatic practices and thought in different disciplines. In particular, the event explores the function and use of diagrams in art as expanded diagrammatic practice beyond the graphic presentation of information.
The event explores diagrams as actual/virtual machines that while taking material form and indexing existing relations and objects, point to other arrangements. As Gilles Châtelet declared, diagrams are gestures that invite other gestures. This is a vision of diagrams as abstract machines activated through performance or thought; a notion of diagrams as relays that connect or traverse different times and spaces. It is a conception of diagrams as critical and logical exploratory devices that, in presenting what is not apparent or visible—real abstractions, potential modes of being, hidden relations—paradoxically depend on the register of the imaginary and the inventive production of images, figures and gestures.
Since the Enlightenment, when diagrams facilitated scientific and statistical breakthroughs, to cybernetic research of the twentieth century, to the algorithmic devices that govern relations and economies today, diagrams have extended and organised human culture. While diagrams have proliferated we can draw a distinction between diagrams that index and deliver knowledge, and diagrams that pose problems and facilitate thought as an exploratory process. Plague of Diagrams addresses not just the critical and organisational functions of diagrams but the art of diagramming too, while taking account of the reductive, controlling or ideological use of diagrams.
In partnership with and with the generous support of Kingston University London, Slade School of Fine Art and University of Kent.
---
PASTE
Leeds City Centre
5 Oct - 18 Oct 2015
Launch: 6-9pm, 5 October
Enjoy Project Space, Unit 22B, 64 Mabgate, Leeds, LS9 7DZ
Alice Khalilova, Derek Mainella, Lorna Mills, Mathew Parkin, Alfie Strong, Oliver Sutherland, Bradley Waller, Jennifer Chan, Adham Faramawy, Jack Fisher, Joey Holder, Ashley Holmes, Emilie Houldsworth, Sebastian Jefford, Will Kendrick
SEIZE Projects is pleased to announce its upcoming public art project PASTE, opening across Leeds City Centre on 5 October 2015.
Furthering debates surrounding the virtual and real in contemporary art practice, the project will exist across two channels - an online platform of digital works, and physical posters pasted onto poster drums throughout Leeds City Centre.
Selected artists have been invited to respond to the material and conceptual differences between the digital and the physical, addressing the technological changes that are remodelling the ways we engage with information.
The project reflects on domains saturated with competing advertising and brands and will explore the dissolving boundaries between artist-made, user-generated and commercial content in the wake of networked systems of information.
PASTE will take place in Leeds from 5 - 18 October 2015, and coincides with the opening of the British Art Show 8, an exhibition that also proposes to explore the convergence of the real and the virtual, and the status of the physical object in contemporary culture.
Free maps of all the poster locations will be available in selected venues across the city.
SEIZE Projects benefits from the generous support of Leeds City Council's Leeds Inspired funding scheme that has enabled them to realise the PASTE project. Other partners include &Model Gallery, Leeds.
---
#WEC (Whole Earth Catalyst)
11 April - 20 Aug 2015
The Composing Rooms
Goethestraße 2, 10623 Berlin
1. O.G, Aufgang D
#WEC: Whole Earth Catalyst derives its name from the Whole Earth Catalogue a pre internet go-to, published between 1968 and 1972, which had an editorial focus on self-sufficiency, ecology, alternative education, DIY, and holism, using the slogan "access to tools".
A series of talks and exhibition of artworks will take place on an evolving basis, touching on the above mentioned topics with neo-quasi-branded updates such as: #biohacking, #biopunks, #smartcities, #awareaesthetics and #ecotising.
#WEC is a project initiated by artist Ella Görner and formed in collaboration with The Composing Rooms with help from the Charlottenburg Council.
Andreas Ervik, Carson Fisk-Vittori, Ella Görner, Tue Greenfort, Joey Holder, Daniel Keller, Rachel Lord, Stephen Nachtigall, Marjetica Potrc + Alessandro Bava, DIS magazine, Anke von der Heide, Martti Kalliala, Tanaz Modabber, Sascha Pohflepp, Jenna Sutela, Elvia Wilk
Following talks/ events will take place from 4.30pm on Saturday 18th and 25th April.
A collection of notes, recordings and images from both the exhibition and discussions will be published online at a later date. For more info see evolving page at: wec.thecomposingrooms.com
Hashtag: #WECPUNK
---
° p r o t e u s °
Online at www.channelnormal.com
Environmental Metagenomics
Microbiome analysis, ecological remediation
Self-monitoring, self-sensing, sense tracking
DNA molecular replacement for silicon microchips
Ultra intelligence
The Quantified Self
Technological singularity
---
'p r o t e u s'
(adjacent to Karen Kramer's solo presentation: 'Epona's Well')
18-28 Jun 2015
Jupiter Woods (reading room)
61 Rollins Street, London, SE15 1EP
'Remarks upon Method' is a curatorial project by Hanna Laura Kaljo, exploring 'intimate' strategies for engaging with research-led artistic practices.
---
The Multiverse (RESIDENCY)
Wysing Arts Centre
Fox Road, Bourn
Cambridge
CB23 2TX21
23 March - 10 May 2015
Selected as one of the seven artists who will be in-residence at Wysing during 2015, taking the theme of The Multiverse as a starting point from which to make new work.
Kit Craig, Electra (Irene Revell), Joey Holder, Heather Phillipson, Paul Purgas, Takeshi Shiomitsu and Erica Scourti
---
SEX SHOP
Curated by Sarah Gillham, Jack Stokoe and Darren Nairn
28 Feb - 29 March 2015
Darren Nairn / Évelie Mouila / Jack Stokoe / Cathie Pilkington / Nick Fox / Keith Farquhar / Chris Rogers / Patrick Goddard / Phil Wilson-Perkin / Mike Nelson / John Walter / LEAK / Bronwen Buckeridge / Nick Land / Joey Holder / Susan Beattie & Yvonne Stone / Salvatore Arancio / Dave Maclean / Tamsin Clark / Richard Healy / Amy Stephens / Sh! / Suzanne Treister / Marloes ten Bhömer / David Rayson / Liane Lang / Tessa Farmer / Keith Farquhar / Tom Gallant / Blue Curry / Alli Sharma / Jon Fawcett / Cathy Lomax / Tom Walker / Francis Richardson / Debbie Lawson / Catherine Morland / Benjamin Orlow / Sarah Gillham / Mindy Lee / Corinna Spencer / Mimei Thompson / Clare Mitten / Paul Hazelton / Jess Eaton / Freddie Robins / Robert Carey-Williams / Jorge de la Garza
---
The Multiverse (LAUNCH)
Wysing Arts Centre
Fox Road, Bourn
Cambridge
CB23 2TX21
21 February, 12 - 7pm
Launch of 'The Mulitverse' with a day-long event that explores the theory from a number of positions; fictive, philosophical, artistic and scientific.
Showing: 'perazoa', - a physical work with permeations through to an online presence, with streams, trails and links to different realms. It allows the user to navigate in several dimensions: linearly along axes, transversally across different species, and chronologically along evolutionary time.
---
">
BioSTAT.
Inside.
Captive breeding.
Increase the numbers.
Reconstruction with microsatellite markers.
Transgenic organism release.
________________________________

installation and launch of http://BioSTAT.media
opening: Friday 16 January 2015 18:30 - 20:30.
Continues through January 31st 2015.
Curated by Jackson Bateman
Project Native Informant
17 Brooks Mews
London W1K 4DT
Wednesday - Friday 12:00 - 18:00
Saturday 12:00 - 17:00
And by appointment
www.projectnativeinformant.com
---
'HYDROZOAN' featured in O Fluxo: www.ofluxo.net
---
'HYDROZOAN' featured in Dazed Digital:
Joey Holder's mutant hybrids:
The artist behind this year's Converse x Dazed Emerging Art Award identity talks futuristic vertical farms, projection mapping and Hydrozoa
---
YEARBOOK 01
Enclave
Resolution Way
London
SE8 4NT
Rhona Byrne / Rachael Champion / Joey Holder / Toby Huddlestone / Kristin Luke / Luke McCreadie / Rachel Pimm / Barry Sykes / Francis Thorburn / Martin Westwood /
28 November 2014 - 15 Jan 2015
YEARBOOK 01 is an edition of 25 hand-bound portfolios compiled of original artworks by ten invited artists. Curated by Lucy A. Sames.
YEARBOOK 01 is hand-stitched with woodside card stock, bookcloth and archival paper. 20pp, 297mm x 420mm in a bespoke embroidered recycled fabric sleeve. Edition of 25. Sleeve and cover design by Ditto Press.
---
1-7 Dec, Art Basel, Miami Beach
TRANSFER and XPO GALLERY partner with HYPERALLERGIC to present a week of salon-style exhibition, daily artist talks and hosted conversations on the conditions of networked culture in contemporary art. These private gatherings @hypersalon will bring together artists, curators, critics, technologists, collectors and dealers.
TRANSFER and XPO Gallery will each present a suite of work, and a third exhibition space will feature a rotating selection of contemporary moving image from our invited guest curators. By appointment, viewers may select a curatorial from the exhibition playlist to view the works. In the outdoor space surrounding @hypersalon sculptural and installation works will be on view.
CURATED SELECTIONS BY:
XPO Gallery, PARIS
TRANSFER, NYC
Domenico Quaranta, Link Center for the Arts of the Information Age
Christiane Paul, The New School & Whitney Museum of American Art
Attilia Fattori Franchini, Independent Curator and Opening Times Co-founder
Magda Sawon, POSTMASTERS Gallery
NonPrintingCharacter, PARIS
American Medium, NYC
Ché Zara Blomfield, The Composing Rooms, and artist Ella Görner
w w w . h y p e r s a l o n . n e t


---
APOPHENIA
Saturday 6th December 6:30-10pm
presented by #temporarycustodians
Josephine Callaghan, Susanna Davies-Crook and Gery Georgieva
Plus guests: Live set by Vera Modena & Patchfinder, performance by New Noveta, VJ/DJ set by The Mycological Twist, and installation by Joey Holder.
APOPHENIA is an invitation to join a 'co-working archipelago' - an ecological growth of creative and industrial islands, within an 8,000sqft warehouse in Salford (North-West England). The launch on the 6th December includes a series of performances by artists in residence alongside guest artists, reflecting on independence and nomadism resulting from a crisis in resource management.
#temporarycustodians is an R&D platform asking how the shift towards the share economy and p2p might provide an alternative to historical modes of collecting. If you would like to join the project by setting up an island in the 8,000 sqft warehouse - for storage, parking, building usage please get in touch at temporarycustodians@lycos.com
Sat, 6th December 6:30-10PM
Regents Trading Estate
(behind Islington Mill)
James St, M3 5HW
Salford
---
'HYDROZOAN', JOEY HOLDER
LIVERPOOL BIENNIAL 2014 PROGRAMME
26 September - 26 October 2014
The Royal Standard
Unit 3, Vauxhall Business Centre
131 Vauxhall Rd, Liverpool, L3 6BN
Devices now powered by small amounts of scavenged energy can be trophic or symbiotic depending on the capacity of nonhumans to act or participate in systems and networks. Multiprotein complexes provide contact between the neighbouring extracellular matrix. Communicating junctions, or gap junctions allow for direct chemical communication between adjacent cytoplasm through diffusion without contact of the extracellular fluid. Self-reconfiguration is needed to endow devices with the flexibility of in-situ challenges, adaptation to unforeseen conditions, with enhanced fault-tolerance.
____________________________________________________________________
Joey Holder is an artist interested in the structures and hierarchies of the technological and natural world and how these systems are constantly abstracted. Mixing elements of biology, nanotechnology and natural history against computer program interfaces, screen savers and measuring devices, she sees no object or substance in any fixed state or with any permanent definition, identity or order; everything is transforming and morphing into something else; everything is a mutant and a hybrid.
Thinking about how nature is 'networked' through it's food webs and environment, Holder connects forms which have emerged through our human taste, culture and industrial processes to investigate complex digital systems that dissolve notions of the 'natural' and the 'artificial'. GM products, virtual biology and aquatic creatures are incorporated into an extended virtual web challenging our perception of evolution, adaptation and change.
Holder has recently completed a 6-month residency with Near Now in Nottingham where she met with researchers & scientists from Post Genomics and Plant Biochemistry at the School of Biosciences Nottingham University. Through her research into future urban farming methods and commercial fish farming the HYDROZOAN exhibition and online platform will be the physical realisation of the research that took place in Nottingham. It will simulate the workings of an 'Aquaponics' system - a food production method that combines conventional aquaculture with hydroponics, which will be housed within domestic hot tubs within the gallery.
HYDROZOAN was developed with support from Near Now and the Post Genomics and Plant Biochemistry departments at The School of Biosciences, University of Nottingham.

---
VERTICAL FARMING & THE FUTURE OF FOOD
Urban Farming, Planetary-scale computing, Biopolitics and Aesthetics
CONFERENCE
FACT, Liverpool
Conference: 3pm - 5.30pm, Friday 10th October 2014
Exhibition viewing/After Drinks: 6-9pm, HYDROZOAN, The Royal Standard, Liverpool
Speakers: Chungui Li, Emily Rosamond, Paul Myers (FarmUrban) and Iain Young
organised by Tom Trevatt, Joey Holder & The Royal Standard
It has been estimated that by 2050 nearly 80% of the earth's population will live in urban centres, and the population will have increased by 3 billion people. These estimates paint a very dire picture, not least for the future of farming and food. With a massively increased population comes the need for a huge increase in land for growing crops, yet this land is fast running out. Recent developments in farming methods are allowing us to build highly efficient, high density farms, utilising state of the art architectural and computational technologies in response to the growing need to produce significantly more food in the coming years with far less land availability. This one day conference addresses these issues, focusing on the Vertical Farm as a starting point to discuss the many scientific, political, philosophical and ethical issues that this new technology raises. Speakers will be selected from a wide range of research areas and asked to respond to the question of vertical farming and the future of food.
Tom Trevatt is a writer, curator, lecturer and PhD Candidate at Goldsmiths. His research is in the political efficacy of contemporary art under the conditions of climate crisis. He lecturers at Goldsmiths, The Bartlett, UCL and University of Creative Arts, Epsom.
Joey Holder is a visual artist who recently completed a 6-month residency with Near Now in Nottingham where she met with scientists from Post Genomics and Plant Biochemistry at the School of Biosciences Nottingham University. Through her research into future urban farming methods and commercial fish farming she is presenting 'HYDROZOAN' a solo exhibition and online platform at The Royal Standard in Liverpool, part of their Biennial program.
---
foam
Commissioned 12" record:
- P/N project space, London May 2014,
- Spike Island associate space, Bristol, June 2014,
- And/Or, London, July 2014
- Space/Time Festival, Wysing Arts Centre, Cambridge, September 2014
---
RESEARCH COMMISION:
Internet of Growing Things
JAN-JUN 2014, NEAR NOW, NOTTINGHAM
From Sergey Brin's €250,000 lab-grown burger through to cutlery design, waste economics to food packaging; the production, distribution and consumption of food has long been a site of invention and cultural idiosyncrasies as well as geo-political conflict.
Analogising global food systems and industrial agriculture as a complex web of relationships between animals, vegetables, minerals and other unclassifiable typologies; Internet of Growing Things invites selected practitioners to work in collaboration, developing new work focused on food and future agri-cultures.
Internet of Growing Things establishes an ongoing research theme throughout the Near Now programme around the relationships between art, design, technology, food culture and natural systems.
http://nearnow.org.uk/projects/internet-of-growing-things/
---
Danz™ ONLINE PROJECT FOR:
Relaax.in is an alternative anti-stress online project by Joey Villemont, set up to create a soothing atmosphere and expel anxiety of digital platform use.
Relax, chill out and enjoy a free moment of sound & visual relaxation.
www.relaax.in
---
RIBOFUNK :performance gear
Embassy Gallery
10b Broughton Street Lane
EH1 3LY
Edinburgh
June 21 - July 6 2014
Laura Yuile, Thomas Aitchison, Joey Holder, Ilona Sagar, Katie Cercone, Naomi Davies, RapidShare
Neurotechnologies, including cognitive enhancers such as modafinil, brain fingerprinting, neural lie-detectors, and nascent brain-computer interfaces, are giving rise to phenotechnologies which will eventually usher in the literal manufacturing of consciousness in a way that promises to redraw existing boundaries between personal and collective experience and recast not only extant categories of personal and collective identity, but also those of personal and collective agency.
- Ray Brassier, Genre is Obsolete
---
image courtesy of Ad Minoliti
Living in the Future
Issue 1 - NEW YEAR, NEW YOU: The Next Phase in Human Evolution.
Launch of new science fiction journal: Friday 28th Feb 7-9pm at Banner Repeater
Published in February 2014, Issue 1 takes the form of an A5 journal in black & white, with contributions from:
Ben Osborn, Viniita Neet Moran, Pete Inkpen, Marta Poznanski, Ed Fornieles, Paul Kindersley, Jaakko Pallasvuo, Ad Minoliti, Llew Watkins, Joey Holder and Jack Brennan.
The world is changing. While Science fiction has often been maligned for its stylistic limitations and non-prestigious subculture, there is little doubt that many of the people shaping these changes have been raised on a diet of science fiction, taking ideas from the page and screen into our present and future.
Edited by James Hedges & Rebecca Bligh, Living in The Future is a new journal of Science Fiction and future-writing, to include fiction, essays, poetry and visual art. Themed issues will explore ideas around the genre of science fiction, science-fiction-like phenomena emerging in the contemporary world, and their convergence.
http://www.bannerrepeater.org/
---
'SOCIETY DISTRACTED'
19/02/2014 – 21/02/2014
48hr durational performance
This project is part of the continued exploration by the artist Thomas Bresolin of violent structures within contemporary society. Using his immediate, visceral, physical, and interactive performance works, or 'surface violence', Bresolin argues against structural conditions which produces such violence.
SD is '48hrs of unadulterated media content' – a collaborative production of 48hrs of continuous image saturation and the effects upon of a group of participants. For 48hours the artist and a group of participants will be immersed in the onslaught of imagery and sensory experiences contributed by a group of artists and curators, as a response to the question of how they construct political meaning amongst a deluge of cultural imagery.
During the 48hrs the group will asses the infinite fragmented content of imagery after the internet – or, to quote Jodi Dean, within communicative capitalism. Structural violence is doled out via or aesthetics and interactions, this project takes as its point of departure the frequently used paraphrase 'the personal is political', and asks if we can knowingly insert our bodies into the space of simulacra and its velocity, can we see behind the image – or – find processes to better use aesthetics in political and active ways?
Participating Contributors:
Alexis Milne, Rebecca Cooper, Dan Mc Clennan, Joey Holder, Nik Jaffe, Lauren Lapidge, Amy Bresolin, Charles Stanton-Jones, Arcadia Missa, Mark Lewis, Jesse Darling, James Lawrence Slattery, Olivia Wynter, Redtube
---
The Wrong
New Digital Art Biennale.
New Digital Art Biennale. Born in São Paulo. Made & exhibited worldwide. until Jan 31st 2014 at http://thewrong.org/
To create, promote and push positive forward-thinking contemporary digital art to a wider audience worldwide through a biennial online event that gathers the best of the best, while embraces the young talents of today's digital art scene.
30 online pavilions leaded by 30 curators/artists/organisations. More than 300 artists to be featured online during 2 months at http://thewrong.org/ starting on November 1st, 2013.
---
Artists/Curators leading The Wrong pavilions: Yoshi Sodeoka, Anthony Antonellis, Rollin Leonard, Lorna Mills, Curt Cloninger, Emilio Gomariz, Filippo Minelli, Rosa Menkman, Andy Simionato, Eric Mast, Alexander Peverett, Chiara Passa, Max Hattler, A.Bill Miller, Peter Rahul, Manuel Fernández, Julia Araña & Guilherme Brandão, Petra Cortright, Miyö Van Stenis, Andrew Benson, Emilie Gervais, Rick Silva, Michaël Borras, Sara Ludy, Joe Hamilton, Ellectra Radikal, Jodi, Giselle Zatonyl, Michael Staniak, Sophie Yerly, Jan Freuchen.
---
Sophie Lisa Beresford, Jenna Collins, Oliver Evelyn–Rahr & Geraldine Gallavardin, Choterina Freer, Sonia Hedstrand, Joey Holder, Anna Kinbom, Sands Murray-Wassink, Benjamin Orlow, Adrianna Palazzolo, Daniel Shanken, Nicola Woodham, Rut Karin Zettergren.

Zeros + Ones brings together 14 artists using video, sound and performance to question power struggles in technology. 22 years after Donna Harraway's publication of A Cyborg Manifesto which launched the Cyberfeminist movement, this show looks at its relevance today in work that celebrates and questions science and technology.
Broken narratives, multiple identities, consumerism, low-fi, CGI, techno, retro, resourced, revamped, personal stories, and the new aesthetic are all present within the featured artists work. These artists come from various European cities and much of the interaction between them takes place over the internet through Skype, email, social networking, and video-file sharing.

Directions: Arbeit Gallery is located on 4 White Post Lane, London. E9 5EN
Closest station: Hackney Wick Overground and buses 26, 30, 236, 276, 388 and 488
---
image: Rhys Coren, SPINK, 2011
Action! Moving Image Abstraction
4th - 8th of December 2013
Soho Beach House, 4385 Collins Avenue, Miami Beach, FL, Miami 33140
(during Miami Basel)
Sam Austen, Leah Beeferman, Rhys Coren, Paul Flannery, Jennifer Juniper Stratford, Chris King, Emilio Gomariz, Sara Ludy, Rosa Menkman, Sabrina Ratte and Nicolas Sassoon
---
D I G
THURSDAY 21ST NOVEMBER 7PM
87 OLD ROAD SE13 5SU
' THE COLD BLOODED ALTERNATIVE '
JOEY HOLDER
screening by
SAM AUSTEN
live music :
CONTRAPUNTO COLLECTIVE
dj sets:
JU BU ! & ???

---
Converse/Dazed
Emerging Artist Award 2013
EXHIBITION: Londonewcastle Project Space, 28 Redchurch Street, London E2 7DP
PV: 25th October 2013
EXHIBITION: Open every day from 11am-6pm, 26th Oct - 7th Nov
Selected Artists: Joey Holder, Faye Green, Adham Faramawy, Ben Washington, Christian Newby
Whitechapel Gallery's Kirsty Ogg joined a panel of esteemed judges including Matt Williams from the ICA, Turner Prize nominee Paul Noble, curator Michelle Cotton, journalist and broadcaster Miranda Sawyer and Dazed Arts Editor Francesca Gavin and took to a room for a day to argue the case for their personal favourites out of the 1,600 who submitted. The final five artists will exhibit in the Converse/Dazed Emerging Artist Award exhibition at Londonewcastle Project Space in October 2013.
---
VESTIGE, South Kiosk, Design Museum
24 Oct 2013, 6:30-9:30pm
In an evening of talks, installations and workshops, South Kiosk will explore the ideas of practitioners who are defining a new future for neglected objects and media.
The new exhibition at the Design Museum, The Future is Here, examines the role of technology in the creation a new, industrial revolution. This era of rapid technological change is opening up new opportunities, in which the lines between designer, manufacturer and consumer are becoming increasingly blurred. But what happens to those technological relics that get left behind?
For this instalment of Design Overtime, the arts organisation South Kiosk will bring together a collective of artists and designers who work with mediums that are considered obsolete, from film-based cameras to forgotten radio and TV frequencies.
Installations:
Gareth Owen Lloyd, James Early (Lucky PDF), Jason Scott & Dan Misener, Bradford Bahamas (including live performance), James Bulley & Daniel Jones, South Kiosk.
Video Wall Screening:
Dave Charlesworth, Rhys Coren, Joey Holder, Joseph Townshend.
Talks:
James Bulley, Kite & Laslett, Jake Asbtury.
Self-Pubishing:
Victory Press (demonstrating Riso-Printing), T-R-E-M-O-R-S, Salt, South Kiosk.
Workshops:
South Kiosk.
- See more at: http://www.southkiosk.com/
---
Multinatural Histories
7pm, 12th October 2013
Harvard Museum of Natural History, 26 Oxford Street Cambridge, MA 02138, USA
Carrick Bell , Colleen Billing, Maria Camia, Lisa Carrie Goldberg , Toni Crabb, Victor Costales and Julia Rometti, Andreas Ervik, Kassel Jaeger, Jennifer Guillen and Elisa Rios, Joey Holder, Maria Molteni, Sergio Racanati, Sycorax, Joeseph Paulk
Multinatural Histories is an independently curated event taking place at the Harvard Museum of Natural History on October 12th 2013 at 7pm. Organized in part by the nonhuman initiative at the Harvard Graduate School of Design, and supported by the Harvard Office for the Arts.
Featuring local and international artists, the departure point for the exhibition is the increasing deployment of the idea of the multinatural to circumvent the realist/relativist impasses generated at the end of the 20th century and the declaration on many fronts to "an end of nature". The term multinatural is widely understood to originate with Eduardo Viveiros de Castro and his description of animistic ontologies of indigenous populations in the Amazon rain forest. Within such a multinatural ontology, the material world shares a universal culture of life and vitality, conditioned by a peculiar, multiple, set of physiological attributes. In de Castro's words, employing the notion of perspective, so fundamental to a modern, rationalist organization of space, "a perspective is not a representation because representations are a property of the mind or spirit, whereas the point of view is located in the body". In other words, a point of view and the peculiar corporal circumstances that enable it, creates a subject, not an object.
In contrast, the Harvard Museum of Natural History is a monument to a sort of assimilating and organizing tendencies within the naturalist tradition. The Museum itself is comprised of collections from three distinct research museums focused on segmented domains of the "natural world"; the Harvard University Herbaria, the Museum of Comparative Zoology, and the Harvard Mineralogical Museum. Founded on the work and collections of pioneers in Natural History such as Louis Agassiz and Asa Grey, the Harvard Museum of Natural History can be understood as an immaculate physical condensation of a world of inert matter objectively organized through a static taxonomy.
Beyond this fixed type of taxonomy that generally co-orelates to "the natural", a certain notion of time that organizes the museum by way of "history" will also serve as a point of investigation for the exhibition. Temporal divisions manifested spatially as rooms aim to integrate the different time scales contained in the collections by giving them a patina of imperishability, even eternity. Rocks that form and gradually change through millions of years, contrast with the remains of evolving organisms whose life span ranges from a few centuries to a few hours. All of them are exhibited in the same space, allegedly frozen in time, obscuring the biases of human temporal perception. This events attempt to re-animate the items and concepts kept inside glass cabinets through video and performance, amount to a blink of the eye in the history of the Museum, as the Museum itself if viewed under geological considerations it presents.
If, as Donna Haraway states, the act of being human is in fact an interspecies relation, then the Naturalist ontology, of which the Museum of Natural History is not only exemplary but foundational, may need revision. In a world in which the relationality of multi-naturalism replaces the relativism of a post-modern multiculturalism, the role of the artist and cultural producer is also transformed. Multinatural Histories seeks to explore the potential of this new role of art and the artist. What other ways of being and seeing can human cultural production make visible? What can art add to conventional taxonomies traditionally used in natural history?
http://www.multinaturalhistories.com/
---
POST POST
reception: 6-10pm Friday 27th September 2013
25 - 28th September 2013
St James, Hatcham, Goldsmiths University of London, SE14 6AD
Megan Broadmeadow, Melissa Bugarella Lazzaro, Dave Charlesworth, Blue Curry, Luke Drozd, Sandra Erbacher, Justin Gainan, Patrick Goddard, Ian Gonczarow, Rowena Harris, Joey Holder, Annie Hémond Hotte, Emma Hunt, Trevor Kiernander, Leo Koivioinen, Michael Lawton, Jenny Moore, jonny mugwump, Sabrina Osborne, Kate Pickering, Lisa Selby, Shaan Syed, Systems House, Tom Trevatt, Jason Underhill, Eduardo Villaneuva, Charlotte Warne Thomas
---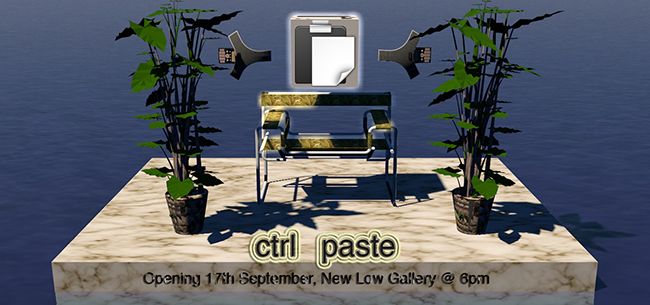 ctrl paste

PV: 6-9pm, 17th Sept 2013
18 - 20th September 2013
New Low, Basement, 746 Swanston St, Carlton, VIC, 3053, Australia
Featuring works by:
* Simon Pericich * Hamishi * Alex Gibson * Lois Hopwood * Corey Peltier * Joseph Flynn * Ace Wagstaff * Darcey Bella Arnold *
And collaborative works by:
* Michael Staniak x Joey Holder * Organ Armani x Kaja Cxzy Andersen * LaTurbo Avedon x Aoto Oouchi * Joe Hamilton x Aiden Morse * Tara Cook x Ry David Bradley *
ctrl paste is the second installment of a three year curatorial project about the relationships artists have with their digital environments and how they respond to them.
Last year's installment was ctrl copy and was held at Gallery One Three in the heart of the Melbourne CBD.
This installment of the project is largely concerned with how the influences of communication technology and digital media have changed the way artists are making their work, both visually and conceptually.
Through the ease of communication via the internet collaborative works are being realised, even where artists have no physical relationship with each other. Communication creates audiences that generate outcome.
---
M U T A G E N
To remain buoyant, their flesh is a primarily gelatinous mass with a density slightly less than water, displaying extraordinary adaptations to the arboreal browsing lifestyle. Their immensely long appendages make them very mobile, searching the bottom for soft stationary meals that cannot escape the regenerative slime, which they extrude from some 100 glands or invaginations. The males are often dwarfs, which remain attached to a single female for life moving around as a single body. Gradually their tissues dissolve into hers and eventually disappear completely. This highly unusual set of physical traits completes an all-seeing search engine in an otherwise unexplored area of Deepnet.
Josephine Callaghan
Joey Holder
Vicky Wright
publication texts by Tom Trevatt, Sonia de Jager and Ben Craggs
PV 7 June 6-9pm, Live performances 12 July 6-9pm
Exhibition 8th June - 3rd August 2013
Open Mon-Sat, 1:30-5:00pm
ASC Gallery
Erlang House
128 Blackfriars Road
London
SE1 8EQ
www.ascstudios.co.uk
gallery@ascstudios.co.uk

FOLLOW:
@muta_gen
tumblr


---
COCKTAIL
28 June 2013
8pm - 1am
Free
The Space, Nottingham Contemporary, Weekday Cross, Nottingham NG1 2GB
www.nottinghamcontemporary.org
The final Friday evening of the exhibition takes its cue from Leckey's 1999 work Fiorucci Made Me Hardcore – a compilation of found footage from UK underground music and party scenes of the 70s, 80s and 90s. The cavernous Space at Nottingham Contemporary will be transformed into a nightclub and television broadcast inspired by dance music culture, trends, branding, digital aesthetics and notions of euphoria.
COCKTAIL is an immersive environment that merges fashion and branding with performance and technology, smoke and mirrors, podiums, sculpture, scent, tailored tracksuits and cocktails. Featuring electronic music by Rokk (Body Talk), Dirty Talk and Lovers Rights, COCKTAIL will also feature artworks by Romany Dear, Joey Holder, Candice Jacobs, Samuel Levack & Jennifer Lewandowski, Zephyr Liddell, Calvin Sangster & Tim Hattrick, Joey Villemont, Zoe Williams and Lucy Woodhouse.
This event also features an online component - please visit Its Our Playground on 28 & 29 June only to view the exhibition.
Curated by Candice Jacobs in collaboration with Zoe Williams & Lucie Akerman, this version of COCKTAIL forms the second in a series of events by Williams & Akerman, the first of which was held at the Motorcycle Showroom in Bristol, 2011.
---

CONCRETE FRAGMENTS | 24 & 25 MAY 2013
16-18 HENEAGE ST LONDON E1 5LJ
PRIVATE VIEW
FRIDAY 24 MAY
6-11PM
ARTIST LIVE WORKS & PERFORMANCES
FROM 8PM
EXHIBITION DAY VIEWING
SATURDAY 25 MAY
11-6PM
FRANK AMMERLAAN
MELISSA BUGARELLA LAZZARO
PATRICK COYLE
SAMUEL FOURACRE
JOEY HOLDER
MATTHEW JOHNSTONE
PETER JOSLYN
FORCE MAJEURE
ILONA SAGAR
*FORCE MAJEURE - MARY CORK - ARTISTIC DIRECTOR
LAUREN KINSELLA AND BEN CRAWLEY - CHOIR DIRECTORS
DOUG HAYWOOD - SOUND DESIGN
HARRY MEADOWS - VJ CONTRIBUTION
SIGGY MACK - GUEST DJ

______________________________________________________
Morgan Concrete is pleased to present an exhibition of specially commissioned and curated artwork editions by young international contemporary artists. There will be new specially created live performative works by the artists and artist guests on the opening night and during the show. The exhibition, entitled Concrete Fragments, will run for two days on 24th (6-11pm) and 25th May (11am-6pm) 2013. The gallery space is located at 16-18 Heneage Street, London E1 5LJ, off Brick Lane.
Concrete Fragments highlights the concept of independent unique bodies separated from a formal cohesive whole. Each unique artwork edition in the exhibition is the result of continued dialogue between Morgan Concrete and the artists over the past year resulting in artistic proposals that represent a flashpoint, or fragment, in the artist's current practice. Strong supplementary performances will further explore and contextualise ongoing dialogue within the artist's practices.
---
Open Curator Studio: The 3D Experience
Open Curator Studio: The 3D Experience is a project initiated by Artspace studio resident, curator Alana Kushnir in collaboration with artist Joey Holder. Kushnir has selected works by Ry David Bradley, Joe Hamilton, Jacob Ogden Smith and Kynan Tan to be incorporated by Holder into a computer-generated gallery space modelled on the Open Studio at Artspace, a leading international residency-based contemporary art centre in Sydney, Australia. Visitors may experience the exhibition and interact with this virtual environment here from Friday, 10 May 2013.
Open Curator Studio: The 3D Experience is an offshoot of Kushnir's ongoing research on the intersections of intellectual property law, curating and art practices influenced by internet culture. She is particularly interested in interpreting the language of the law in the context of her own curating practice.
In the decision of Patrick Cariou v Richard Prince, Gagosian Gallery and Larry Gagosian, which was handed down by the United States Court of Appeals for the Second Circuit on the 25th of April 2013, the court reiterated the point made in several prior U.S. court decisions: that the copying of an original work can qualify as a 'fair use' of that work, and therefore be excused from copyright infringement, if the new work adds something to the original work, a further purpose or a different character, altering it with a new expression, meaning, or message. The court explained that where the new work fulfills this requirement, it can be considered 'transformative' and therefore a 'fair use' of the original work.
For Open Curator Studio: The 3D Experience, Kushnir has selected works which push the boundaries of 'fair use', thereby providing a prism through which the legal concepts elucidated in the new Richard Prince case can be explored and questioned. Ry David Bradley has taken images from reuters.com, reconstituted them upon quasi-sculptural forms and printed them on black gloss metal. His new message is that "upon arcane forms from different points in time lie the remnants of other, more recent signs." Kynan Tan has used the data of sleeping brain waves to control and vary an audio-visual composition. Jacob Ogden Smith has created digital images of pottery using an iPad App called Let's Create: Pottery. Each of these images are based on a piece of pottery featured in a film or television show, such as an episode of Law & Order: Special Victims Unit, thus calling attention to the continued relevance of ancient materials to popular culture. Joe Hamilton has reconfigured various images of the facade and interior of a new, architecturally significant building in Melbourne into a constantly moving, constantly shifting environment.
For Open Curator Studio: The 3D Experience each of these works also act as original works which are altered to have a further purpose by Joey Holder. Holder reconfigures them within a computer-generated version of the Artspace Open Studio exhibition space. She inundates the surrounding walls, floor, ceiling and even windows with a range of digital patterning which she has created by meshing together images found on the internet. As a result of Holder's reconfigurations, Open Curator Studio: The 3D Experience is a space which is transformative itself, adding something new to the transformative works it displays.
---
S P A M M ~ S A F A R I ~ 2 0 1 3
curated by LaTurbo Avedon and Michaël Borras AKA Systaime
May 2013
~~ ONLINE SHOWCASE ~~
www.spamm.fr
---
IF NOT NOW
NIGHT LOOPS II
Online 20th March – 20th April 2013
HIPPOCAMPUS by Joey Holder screened on Sunday 31st March from 9pm - 4am
Every night IF NOT NOW will take over the Legion TV website and replace it with a video loop that will play until the morning. The loops will come from a range of contributors and sources, both credited and anonymous.
The intention is to create an ephemeral group show of diverse work around a shared format – the loop. Inspiration for the project comes from the night screen loop that television channels play when they close for the night. There are no restrictions other than the video has to loop.
BACKGROUND
IF NOT NOW is an ongoing series of projects initiated by Rafael Farias and Tom Merrell whilst studying at the Royal College of Art. Each project begins by defining a fixed format and inviting contributors to produce work to fit and respond to it. The first Night Loops was part of an online television channel during the RCA summer show 2011 and featured contributions from Constant Dullaart, Hans Lo, Oliver Jennings, Damon Zucconi, Signune Hamann, Andrew Sunderland, Trevor Jackson and Dylan Fisher.
---
BYOB London 2013
Bring Your Own Beamer (BYOB) is a series of one-night events, so far held in over 80 cities across the world. Join us for a spectacle of moving image featuring artists and their projectors! For one evening only, The White Building in Hackney Wick will be transformed into an interactive object, featuring: MOVs, GIFs, 3D worlds, intercontinental live streams, light box drawings and virtual sculpture.
Featuring:
Awe IX | Laurie Bender | Rebecca Cooper | Jamie George | James Hicks | Marinette Kaus | Lawrence Lek | Beatrice Lopez | Hannah Mason | Parag Mital | Tobias Revell | Antonio Roberts | Clifford Sage & Joey Holder | Andrey Shental | Camila Sotomayor | James B Stringer | Daniel Swan | Viktor Timofeev & Chris King | Simon Whybray |
Sunday 10th March | 6-9pm
Residency Studios
The White Building
7 Queen's Yard, London E9 5EN
http://thewhitebuilding.org/
BYOB at White Building is organized by Lawrence Lek, in association with SPACE Studios.
The first BYOB event was initiated and created by Rafaël Rozendaal in 2010 in Berlin.
---
MORGAN CONCRETE ART EDITION:
LAUNCHING: Feb 2013
JOEY HOLDER
Running Ants, 2012
50 x 50 x 20 cm
Lightbox - MDF, spray paint, print
(EDITION OF 10 + 2 ARTIST PROOFS)

http://www.mcaal.com/mcae/
---
Misery Connoisseur
(in collaboration with Van Horbourg)
presents
MC LIVE II: ZURICH
PREVIEW: January 31st 2013, 6PM
EXHIBITION: February 1st - February 22nd 2013
Amir Chasson / Annie Davey / Justin Gainan / Joey Holder / Rena Kosnett / James Prevett / Jason Underhill / Burcu Yagcioglu / Kentaro Yamada
MISERY CONNOISSEUR (MC) is pleased to announce the second outing of MC Live at Van Horbourg Zurich, which will feature a selection of short films from contributors to issue 1 of Misery Connoisseur Magazine. Curated together as a show-reel, the video works exist in addition and complementary to the printed material, lifting the artists' ideas off the page and into a physical arena.
---
COWBOY STYLE
(with psychoanalYSL)
MARLBOROUGH CONTEMPORARY
Agnieszka Brzezanska, Werner Buttner, Pamela Golden, psychoanalYSL, Laura White
PV: Thursday 10th January 2012, 6-8pm
11th Jan - 7th February 2012
Marlborough Contemporary
6 Albemarle Street
London W1S 4BY
United Kingdom
www.marlboroughcontemporary.com
info@marlboroughcontemporary.com
---
THE VIDEO DREAM MIXES
Haroun Haward, Joey Holder, Benjamin Orlow
PV: THURSDAY DEC 6, 2012
6-9pm
7-23 Dec, 2012
The Invisible Line
87 Dalston Lane Dalston London E8 2NG
From a group that is recognised for their early innovative concert visuals I cannot believe the tawdry product they have served here. The visuals look like the were produced in the early 80s on a commodore-64 computer. Why the repeated images of the female musician on sax and other reed instruments when none are featured on the soundtrack? (granted she is easy on the eye compared to the other two heaps). Avoid.
(review of Tangerine Dream: The Video Dream Mixes, 1996 found on Amazon.com)
---
THRALL DOM
LIMAZULU
Unit 3J
Omega Works
167 Hermitage Rd
N4 1LZ
Private View: Thursday 22 November 7-10pm
Open by appointment until Friday 30th November
JOSEPHINE CALLAGHAN
JAMES CLARKSON
JOEY HOLDER
KLASSIXX
In Xanadu did Kubla Khan
A stately pleasure-dome decree:
Where Alph, the sacred river, ran
Through caverns measureless to man
Down to a sunless sea.
Taking the mesmerising technique of Romantic poetry as starting point we recognise the potential for the poetic state of thall dom to be identified in the field of contemporary art. Coleridges imaginary landscapes transported the reader to a place more kind to the senses than the pandemonium of industrialisation. Today, those distant landscapes of the imagination continue to be mined. Mineral is machined into the consumer good, constructing new tactile experiences.
Self diagnosed contemporary artists and members of the ASMR community share an experimental and hypnotic approach to objects and image making and a common set of strategies, to produce charmed and intrigued spectators. Indeed the language of their work is the spectacular possibility of materials and whilst Debord sought "to wake up the spectator who has been drugged by spectacular images" these artworks and online content seek to drown the spectator into an ever-deeper slumber.
PRESS FOR THE EXHIBITION:
Dazed Digital: Exhibition of the week
---
DIGITAL BAROQUE
JOEY HOLDER
Eight Members Club Bank | 1 Change Alley, London, EC3V 3ND
+44 20 76210808 | bank@eightmembersclub.co.uk
9 November – 30 November 2012 (by appointment only)
Private View: 9th Nov 6:30 – 8:30pm
Joey Holders work includes painting, sculpture, video and digital manipulations. She is concerned with notions of the 'artificial' and the 'organic', two terms with meanings that have become harder to define within today's technology-driven world and our adaption to this ever-revised order.
Within this exhibition, Holder will present constellations of aberrant images, ranging from biology, nanotechnology and natural history, displayed within open computer computer windows on popular desktop screen savers and program interfaces providing us with familiar cues in an unfamiliar domain.
By contrasting so-called organic and artificial substances and surfaces through a series of abstractions, Holder creates a world of manifold layers, none more unified or natural than the next. These hybridities may suggest a particular function or natural form but remain elusive through their odd displacement. Fragmented patterns clash against automated representations, each vying for the viewers attention, creating a barrage of excess and exuberance. Painterly and digitised forms exist in parallel - fragments forced together into stable configurations, resulting in moments of pure display and hyper-aestheticisation. Holders work represents an organic way of seeing computation through an evolution from canvas to screen.
PRESS FOR EXHIBITION:
---
PHOBIA(Exhibition)
Hanmi Gallery
30 Maple St, W1T 6HA
020 8286 4426
24 November - 5 December 2012
Private View: Friday 23 November 2012 6-9pm
http://www.hanmigallery.co.uk/
info@hanmigallery.co.uk
Tue-Sun 12-6
(Warren St or Goodge Street tube)
Artists: Erik Bendix, Ole Hagen, Joey Holder, Sang Jin Kim, Alexis Milne and Woon Zung
---
Open File - Series III (event)
HASHFAIL
Event/Torrent/Publication
Friday 14th December 2012
7 - 11 pm
Grand Union, Birmingham
Featuring work by: Rhys Coren, Joey Holder & Clifford Sage, Polly Fibre, JK Keller, Yuri Pattison, Oliver Sutherland and Pil & Galia Kollectiv, alongside a text by Gil Leung.
Download the Open File Torrent
Hashfail is the first in the series of 3 nation-wide events by Open File investigating the distribution and production of art via virtual and digital platforms through sound, performance and digital media. Hashfail coincides with (On) Accordance a project by or-bits.com and Grand Union.
A Torrent file is a file distributed via the web through rapid peer-to-peer seeding of information. Becoming representative or pirate and copyright-infringing distribution it is also a mode of sharing that relies upon direct connection with other anonymous users of the internet.
A Hashfail occours when seeded files have become corrupt and therefore certain bits of data cannot be received. Numerous Hashfails leed to the loss of quality and gradual decomposition of a file, shifting it ever-further from its origin, subjecting it to a new type of physicality and texturing.
Grand Union
19 Minerva Works
Fazeley Street
Birmingham
B5 5RS

Open File series III is Kindly supported by the Arts Council England
With an essay by Gil Leung http://displaydevice.tumblr.com/
http://www.openfile.org.uk/
http://www.grand-union.org.uk/
---
Misery Connoisseur (Publication)
Launching December 2012

A Computer Ringtone for Skypism - text published in new a curatorial project using the format of a quarterly glossy magazine
http://www.miseryconnoisseur.co.uk/
https://www.facebook.com/pages/Misery-Connoisseur/197921340293426
---
The Supra-Sensorial Bin (event)
/////////////////////
18th October 2012
8-12pm
////////////////////
That which is proposed is always given as play….chance play…. : Helio Oiticica
A multitude of images, sounds and performances come together for one night in a composition created from the second clips, the leftovers/the un-used/the un-formed/the found/the sketch.
The creation of a sensorial work that focuses on the formal qualities of a composition as in the timing/spacing/ and the rhythmic quality of the loop, formed from the remnants of the image and their sound.
The Supra-Sensorial will continue to develop a constantly altering archive of these leftover and un-used, unformed material derived from contributors working in the moving image, sound and performance.
What we want to explore is the potential of this archive in creating alternative relationships and modes of production.
A form of curation that does not use the finished work, but merely utilises the potential of any form of recorded media that the artists have made.
A collaborative piece that continues to explore image, sound and performance being in a continual state of transformation.
Rebecca Cooper, David Ferrando Giraut, Micah Harbon, Joey Holder, Hattie Ladd, Stephen Lordan, Kyrone Oak, Texas Royale, Anastasia Shin, Dante Rendle Traynor, Lauren Lapidge and Meera Chauhan
Performances by: Texroyale and Marvin bats Haus Of Sequana
http://www.vsrvsr.tumblr.com/
http://www.facebook.com/events/412807978773810/
---
BYOB London 2012 (event)
(part of) Moving Image: An Art Fair of Contemporary Video Art in London
11 October 2012
6-8pm
Bargehouse
Oxo Tower Wharf
Bargehouse Street
South Bank
London SE1 9PH, UK
---
:::::UMF:::::: LAUNCH:
A club night dedicated to the art of the VJ
http://unitedmentalforce.blogspot.co.uk/
Featuring:
Lepke B, Punkvert, Mike Darkfloor, Joey Holder, Last Japan, Blind Tom B, Ramm>HellZee
Exploring a lineage of club visuals from Lepke B one of the first VJs working in London from the 1980s to Punkvert resident VJs at Turnmills during the 1990s.
UMF will be showcasing collaborations between artists working in video and performance and DJs, promoting a hyper synthesis of live audio visual Electronica.
---
TV DINNERS (Exhibition)
Featuring Auto Italia Live, Eddie Peak, LuckyPDF, PsychoanalYSL and Soda_Jerk
Curated by Alana Kushnir
Opening Tuesday 28 August 6 - 8 pm
28 August - 15 September 2012
BUS Projects: Basement level, 673 Bourke Street, Melbourne 3000
---
The Modern Language Experiment presents:
What is an Art Book? (publication)
Friday 23rd September 6 - 9pm
Saturday 24th of September 10am - 7pm
Sunday 25th of September 10am - 7pm
The Artists Books Weekend
The Mews Project Space
15c Osborn Street
London
E1
An Art Book today can be seen to occupy various different positions including that of a piece of theory, a catalogue, a printed exhibition, a piece of art in itself, a supplement to a pre-existing piece. It can be a proposal for the future or an examination of the present or what has passed. What is an Art Book? will be an investigation of what an Art Book is in terms of material and conceptual concerns. It is a collaborative project that will be produced during the Artist Books Weekend at the Mews Project Space. Artists, writers, curators, designers and other practitioners are invited to respond to the title of the project by contributing their interpretation of what an Art book means to them and their practice. Each contributor can propose text, drawings, photographs, sculpture, performance, audio recordings, video or any other concept/theory as long as it can ultimately be realised in A4 paper format and in black and white.
What is an Art Book? will be published later in the year by The Modern Language Experiment and will be distributed via Tate Modern, Donlon books, The Mews etc. A pdf version will be made available to download.